Windows invokes Sgrîn Las Marwolaeth upon Newport
Apparently Welsh was not invented by Tolkien
Bork!Bork!Bork! We go back to the roots of bork today with a good, old-fashioned Blue Screen of Death, courtesy of Transport for Wales.
Today's BSOD, snapped by Register reader John, is nestled neatly between a pair of screens that show what we believe are departures and arrivals from Newport Station in southern Wales.
Ordinarily, the BSOD itself would normally be the source of the greatest gibberish but, lacking a command of the Welsh language and with only Google Translate to hand, we have to confess that what we think might be the departures and arrivals boards are up there in the incomprehensibility stakes.
Still, the BSOD itself appears to be a STOP induced by our good friend, atikmpag.sys. The poorly signage looks like it has attempted a reset of a display driver and Windows responded with all the stability of a journo after an hour at a free bar.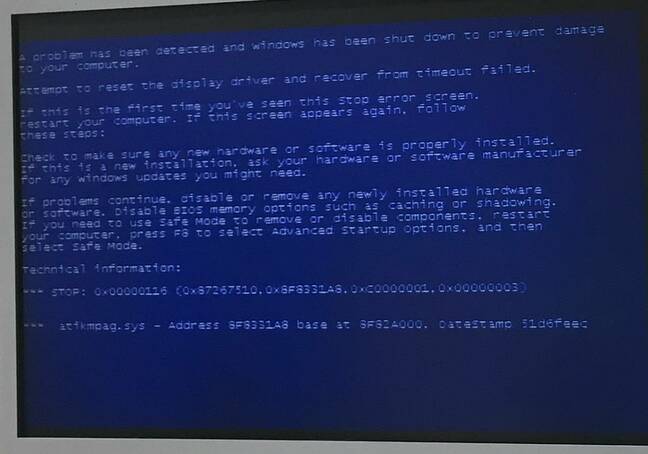 Click to enlarge
We've seen this error a few times ourselves, notably when attempting to upgrade an elderly bit of kit to Windows 10. Microsoft's wunder-OS occasionally stopped in its tracks with a screen of purest blue until the offending drivers were stripped from the system via Safe Mode.
It's a shame, because Newport Station itself is quite the futuristic construction, with a pair of concourses connected by a footbridge and resembling some sort of giant alien fidget spinner dropped over the tracks. Those wishing to pay the place a visit (and sample the other undoubted delights of the region as documented in a pair of Newport State of Mind parody videos) can make the trek with relatively little fuss from stations as far afield as Manchester, London or Brighton.
We do hope the inability to keep Windows from crashing and burning in Newport does not affect plans to improve transport infrastructure for the rest of the region. The Beeching cuts of the 1960s did no favours for rail-based fun in Wales, and plans are afoot to undo at least a small part of the slicing via the South Wales Metro project.
In the meantime, behold the lost railway stations of Newport. Not so much a blue screen of death, more a timetable of axed services. ®