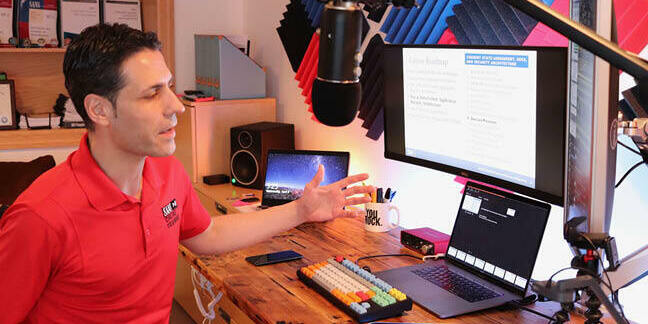 Promo The SANS Institute continues its mission to teach cybersecurity skills during the coronavirus lockdown: it now offers a slew of courses that feature live interaction with world-class instructors that go hand in hand with the many certifications from GIAC, which has also moved its offering online with proctored exams available from the end of May.
Live Online, as SANS has simply termed the format, focuses on the interactive element of cybersecurity training, with sessions running completely live, with hands-on virtual lab environments, and new digital courseware perfect for preparation for taking those exams.
Most importantly, Live Online sessions are all focused around the presence of a real, live SANS instructor with core knowledge of your study area, who can interact personally with course members in real time.
SANS has designed the courses to be flexible, and fit around our unpredictable home-working calendars. With courses available for completion in one, two, three, or six weeks, plus four months of access to the archive of materials of your chosen course, and an extended archive of your classes in .MP4 format, you can supplement your working experience beyond the live sessions with this panoply of resources.
Students who take Live Online training don't just benefit from hours of interaction with their expert instructor, they also interact and network via the dedicated Slack channels that exist for each course. They can also compete together in online CTFs and challenges as SANS has taken its infamous NetWars tournaments online.
You can choose to study full day or half day sessions, in combinations of consecutive and non-consecutive days, each week for full convenience.
Live Online courses range from basic introductions to cybersecurity, through security operations and analysis concepts, and all the way to more specialist training in areas such as securing Windows Powershell, tactical analytics with SIEM, and advanced penetration testing.
When an educator is offering a course called Metasploit Kung Fu, you know you're in safe hands.
Sean Ayers of UPS said: "I'm really happy with the interaction with the other students. This is my first Live Online course and I'm surprised at the proactive engagement of the students. I would have thought that you could only get that type of involvement from on-site/in-person course instruction."
If you're interested in training with SANS, now is a great time to do so because for a limited time they're offering the SANS Flexi Pass. This pass allows you to study one selected course across all three SANS training modalities:
SANS OnDemand
SANS Live Online
SANS Live In-Person training
The pass also includes one complimentary GIAC Certification Attempt and eight months of access to the renowned SANS NetWars Continuous platform, offering you the chance to train, play, and certify with one access-all-areas pass.
Find out more about the SANS Institute's Live Online Training right here, and get your Flexi Pass today while you can.