This article is more than 1 year old
Microsoft promises big things for Edge... and they'll be ready for folks some time before universe's heat death
Fun goodies for developers... for everyone else, well, we hope you like Pinterest
Build Four months after Microsoft launched a renovated version of its Edge browser - sitting atop the open-source Chromium project - the Windows goliath has honed Edge further, just in time for its Build 2020 developer conference.
The Build bash is virtual this year, owing to the coronavirus pandemic, and some of the Edge-related updates aren't quite there either. The Microsoft Edge Add-ons site, for example, is getting a fresh lick of paint to make it more visually compelling but the renovation isn't yet done; it's rolling out later this month. There will be new categories, improved search capabilities, and a revised layout – not now but soon.
Other enhancements – described in a blog post by Kyle Pflug, principal program manager lead for Edge Developer Experiences, and made available to The Register ahead of publication – are more immediately available, though not necessarily to the general public.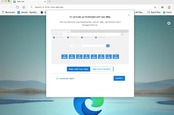 Microsoft's on Edge and you could be, too: Chromium-based browser exits beta – with teething problems
READ MORE
Last year, Edge gained a preview of the WebView2 control for Win32 developers. WebView2 allows developers to host web content in a native application – think of it as an embeddable browser.
That preview, as of Tuesday, expands to include .NET and UWP (WinUI 3.0) development. So developers working on native applications involving WinForms, WPF, and UWP (WinUI 3.0) apps can now stuff them with a Chromium-based Edge WebView.
Edge users really committed to living on the edge, which is to say those using the not-quite-stable Edge Canary preview build, can now get a sense of how Progressive Web Applications (PWAs) are being integrated into the Windows ecosystem.
Under Edge in Windows 10, PWAs – basically, web apps that can be installed and run offline – can be managed from Windows settings, to share and receive content with the native OS more easily, and will appear in the Start Menu. To get a glimpse of this utopian world, just enable the Web Apps Identity Proxy flag via the Windows Insider preview Edge Canary build.
Microsoft is also implementing Origin Trials in Edge. The platform allows developers to test experimental web technology on their sites for a specified period of time with a set of participating Edge-using visitors. The idea is that web devs can see how these evolving APIs work and maybe suggest improvements before the APIs reach general release.
And on the cuddlier side
But it's not all for devs – Edge will also see some consumer-facing features. The browser's Collections capability (bookmarking on steroids) has been connected to social site Pinterest. The integration, when enabled, produces Pinterest suggestions at the bottom of a collection.
Clicking on a suggestion opens a selection of similar, trending Pins. The integration also allows users to export a collection to Pinterest as a new board.
As of Tuesday, Collections will have the option to send content to Excel and Word. The Pinterest connection and the ability to send to OneNote are scheduled to appear in Edge Insider channels within a month.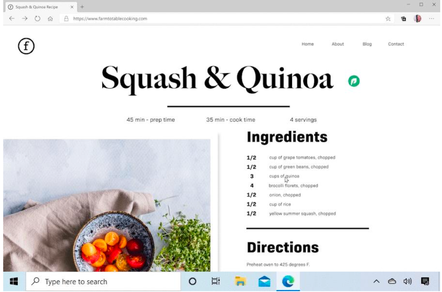 The Edge search sidebar ... Click to enlarge
Edge is also aiming to add a new way to augment search. Instead of searching in a new browser tab, forthcoming builds will include sidebar search.
Users will be able to highlight a word and select "search in sidebar" from a contextual menu. This search will also pick up internal company results for those signed into Azure Active Directory accounts. Sidebar search, like other works in progress, will show up in Insider preview channels within a few weeks.
IT managers should appreciate how Edge can now synchronize installed extensions and apply a policy to specify what kind of data to sync. What's more, Microsoft is bringing Edge sync to on-premises environments soon.
In addition, the company is adding a Work page to Bing search results pages for Microsoft 365 customers. Being signed into Bing with work credentials will add the Work page next to other Bing pages like Images, Shopping, and News. As its name suggests, the Work page will include organization-specific search results associated with people, internal websites, and documents.
Edge has also gained support for Windows Information protection for Windows 10. It now allows users to specify a default profile for any link opened and will detect whether a link needs work credentials, in order to switch profiles automatically through its Automatic Profile Switching feature.
In his post, Pflug said that Microsoft has made more than 3,000 commits to the Chromium project so far. At just over 6 per cent global market share, according to NetApplications, or less, according to StatCounter, what Edge really needs is more users. ®