Google's senior veep for Android, Chrome OS and Play Store, Hiroshi Lockheimer, has apologised for suspending the popular Podcast Addict app, but he might not have expected the outpouring of frustration from other developers with their own tales to tell.
The exec said on Twitter this morning: "Apologies to Podcast Addict fans today. We are still sorting out kinks in our process as we combat COVID misinformation, but this app should not have been removed."
Good news for Podcast Addict fans – but his intervention sparked protests from others frustrated with Google's process for suspending applications. Even in the case of Podcast Addict, it is not a smooth process. "All I got was an email telling me that the appeal was accepted and that I now had to 'Fix the issue' and then resubmit the app. I just added an extra space at the end of the store listing field to be able to resubmit the app. Now I'm waiting for the approval," said the Podcast Addict developer.
The app was suspended, apparently because it referenced COVID-19, even though many podcasts are doing the same thing. It has been suspended before, the problem being that it links to third-party content. In January 2016, it was banned for linking to "sexually explicit material" but quickly reinstated. Four years on, history repeats itself.
"No, we can't carry on. The point is that the system is badly, catastrophically badly broken, and if not for the fact that this developer has a large following on social media, the app would still be banned. Who knows how many other devs have been destroyed by this," said one comment.
"My app got removed a week ago for having a sticker pack called 'corona emojis' so, emojis with stay safe and wash your hands messages .... 50M downloads and 15M active users. I assume it was a mistake as well?" observed another.
The developers of another app said: "We just had our app Pinreel, a complex video maker App with thousands of hours of work, suspended. We have no relations or mentions of COVID in our app or description. Google Play's automated emails provided no detail [on] what we need to fix."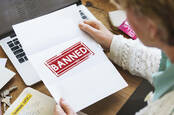 Android dev complains of 'Orwellian' treatment as account banned after 6 years on Play store
READ MORE
Another case involves a pandemic game, developed by Łukasz Oksztulski. He described on Hacker News how his game was banned pre-release, approved after appeal, then banned again a week after release.
"The game does not contain any COVID-19 references, nor any medical advices nor any propaganda," he commented. To Lockheimer he said: "The Google Play team couldn't tell what exactly was wrong with my game. Now they don't even answer to my appeal/email."
While Google has struggled to get its COVID-19 policy implemented successfully, the general issue of its poor developer communications when apps are suspended goes back many years. Getting this right at scale is a challenge, and this latest round of suspensions demonstrates that it remains a significant problem. We have asked the company on several occasions, including this one, for comment on the issue, but it has yet to respond. ®
Similar topics