Honor launches new UK store, laptop, kettle, er... toothbrush?
Huawei's baby goes 'lifestyle'
For much of its existence, Chinese smartphone brand Honor has tried to distinguish itself from Huawei, its parent company. The latest manifestation of that effort is the launch of a new ecommerce platform in the UK, paired with a smattering of lifestyle IoT products. Oh, and it's launching a new 16.1-inch laptop aimed at young professionals.
From a company milestone perspective, a new shopping site is arguably the most significant bit of news here. Honor has read from the same playbook as rival vendor Xiaomi, which has extensively (and successfully) pushed punters towards its own mattress-flinging retail channels, rather than those of carriers and Amazon.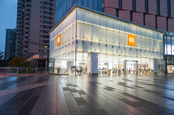 Mobes 'n' mattresses flinger Xiaomi growing like the clappers – outside China, at least
READ MORE
Not only does this bestow Honor with the ability to control the entire experience, the youth-focused brand can also steer punters towards its own-brand accessories, including headphones, wearables, and backpacks. Honor has also launched a VIP programme to go with the site, offering discounts on sales, as well as free shipping.
This goes some way to reinforcing the Honor brand, which has long felt like an appendage of its parent company, rather than something distinct. Like Xiaomi, Honor is breaking away from its bread and butter of mobiles, computers, and wearables into new lifestyle-tech territory.
Want an Honor-branded vacuum cleaner to go with your smartphone? Now you can. Honor has also slapped its logo onto a Dyson-esque "Air Multiplier", as well as a humidifier, desk lamp, kettle*, and toothbrush**.
Alongside these lifestyle kit is a decent array of conventional personal tech products. There's the Honor Router 3, which will see an international release in July this year. Running Huawei's Gigahome silicon, this dual-band bit-flinger offers Wi-Fi 6 support and speeds of up to 3Gbps.
There's also a new TV – or, in Honor parlance, "smart screen" – available in 65-inch, 55-inch, and 50-inch variants. These can handle 8K video, and come with four integrated 10W speakers. It's not clear if this will run Harmony OS, like its predecessor (we've asked).
Also seeing a June release is the Honor ViewPad 6, which joins the very exclusive club of 5G-enabled tablet computers. The ViewPad 6 packs a 10.4-inch 2K display and runs on Huawei's 7nm Kirin 985 5G platform. Punters get a choice between 6GB and 8GB of RAM, while storage is available in 64GB, 128GB, and 256GB configurations.
There's no 3.5mm jack, but there's USB-C. On the battery front, there's a 7,250mAh cell which supports 10V quick charging. And because who doesn't love taking pictures with something the size of a clipboard, there's a 13MP rear camera, paired with an 8MP front-facing selfie camera. Finally, Honor has lifted the lid on the Honor MagicBook Pro, which will hit Russian shelves in September. As yet, there's no word on a UK release.
This machine packs a 16.1-inch display, with bezels bordering the thing just 4.9mm in depth. Under the hood, there's an Ice Lake Core i7-10510U platform, accompanied by an Nvidia GeForce MX350 graphics card. The base configuration comes with 16GB of RAM and 512GB. The Reg recently got our mucky paws on the Ryzen-powered MagicBook 14, and we're interested to see how this device compares. We had some complaints about the display and positioning of the webcam, and we'd like to see whether Honor has addressed them in this latest ambitious attempt. ®
* It knows the UK market well.
** Never mind.