COVID-19 sparks new wearables to push the pandemic away
Don't stand so close to me as-a-service, with added blockchain
COVID-19 is spurring new types of wearable hardware.
Exhibit A: a startup named Nodle has cooked up a "smart wearable" that bakes the third-party contact-tracing the "Whisper tracing protocol" and Bluetooth into a device said to be wearable as a necklace or clipped onto your garments.
Bluetooth lets the device detect if it is within six feet of another, at which point it administers a buzz to remind wearers that social distancing is a fine idea. The contact-tracing protocol means companies that put the devices to work can inform staff if they come in contact with a COVID-carrier. There's even some blockchain lurking in there somewhere to preserve records.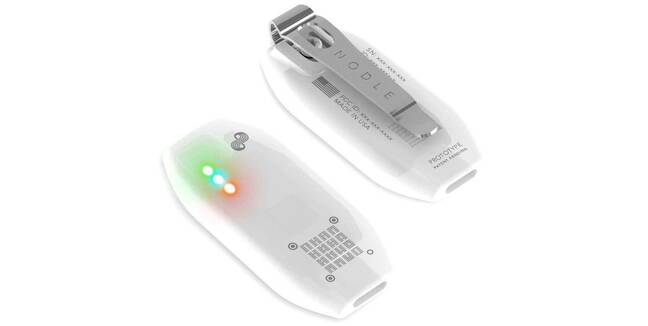 The Nodle M1 will ship in October. Click to enlarge
Another piece of COVIDware is Motorola's new V300 Body-Worn Cameras, in which the key innovation appears to be a field-replaceable battery and 128GB of memory. That combination means the camera can operate for 12 hours or more.
"With officers often working overtime during this pandemic to ensure the safety of their communities, we've seen a heightened demand from our law enforcement customers for a body-worn camera with capabilities that enable them to stay in the field longer," intoned Andres Lacambra, senior director, Motorola Solutions' WatchGuard portfolio. The new battery is said to make that possible by removing the need for a trip back to the station for a new battery.
The cameras also work with another Motorola product called the "WatchGuard 4RE in-car video system" that can also capture video, sync it with the bodycams and recognise number plates into the bargain.
Body-worn cameras have infamously high failure rates due to alleged misunderstanding of how to make the devices work in a crisis or battery failures that conveniently happen just before controversial moments. Hot-swappable batteries could either address or exacerbate such issues. And the buzzy wearables? The Register imagines some employers will see them as a fine way to protect staff. And others will love them, for all the wrong, reasons, long after the pandemic passes. ®