This article is more than 1 year old
HPE's Black Thursday: Staff face pay cuts or the ax, office closures to save $1bn+ after coronavirus slams IT titan
Biz says it'll be a proper as-a-service outfit by 2022, which means changes to support, supplies, locations
HPE has vowed to slash its spending by at least $1bn after it suffered a disastrous financial quarter, primarily blaming its downfall on the effects of the coronavirus pandemic on its supply chain and customers.
We're told it has more than more than $1.5bn in orders for servers, storage, supercomputer parts and other data center infrastructure backlogged by component droughts, which is twice its previous record.
To counter this, the IT titan announced a "cost optimization and prioritization plan" alongside its figures for the second quarter of its fiscal year 2020.
This three-year "right-sizing" plan, effective immediately, will involve axing jobs, freezing promotions and raises, tightening hiring, cutting salaries across the company – The Register has heard all staff bar those in front-line sales will take a hit – and closing or merging offices. The more senior you are, the larger your salary cut. Some people will be told to take unpaid leave, and some given the chance to opt out. Exactly how many people will be affected by these measures, and where, will be decided over the coming months.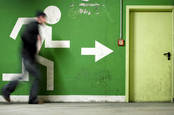 HPE loses second key exec in as many weeks
READ MORE
CEO Antonio Neri and his fellow top brass will, from July 1 and for the rest of the fiscal year, take a 20 to 25 per cent cut to their base pay, and the board of directors will each knock a quarter off their $100,000-a-year retainers. HPE's products will be streamlined and rejigged to be offered as-a-service by 2022, which will force changes to the way it manages customers, offers support, and orders parts.
The aim is to save at least $1bn gross by that year, and achieve "annualized net run-rate savings of at least $800m," the company said. The majority of savings will be made sooner rather than later, according to execs. And that will involve spending $1bn to $1.3bn to achieve, we're warned, presumably in severance payouts and funding other changes to the business.
Neri said his US corporation was derailed when the pandemic, and subsequent lockdowns to prevent the virus's spread, cut off its supply chain, preventing it from fulfilling orders, and sent a wrecking ball through its sales. Some customers were also hesitant to invest in its IT wares during these uncertain times.
"The global economic lockdowns since February significantly impacted our fiscal Q2 financial performance," he said [PDF] in a statement. "We are taking decisive steps to navigate the nearterm uncertainty, while ensuring we align resources to prioritize growth areas so that we are well positioned to accelerate our edge-to-cloud strategy and address the needs of our customers in a post-COVID-19 world."
By the way, in mid-March, HPE beancounters boasted in a fire-side chat [PDF] with Wall St types that the manufacturer had a "high mix of reoccurring revenue and profits" and a "robust balance sheet." How times change.
Here are HPE's headline numbers [PDF] for the three months to April 30:
Revenues declined 16 per cent, year on year, to $6bn, and missed analysts' expectations by nearly $300m. Compute sales were down 20 per cent to $2.6bn; storage dropped 18 per cent to $1bn; supercomputing and mission critical systems fell 18 per cent to $589m; professional services dipped nine per cent to $237m; and financial services slipped seven per cent to $833m.
That resulted in a net loss of $821m versus a $419m profit this time last year.
Non-GAAP diluted earnings per share nearly halved to $0.22, down from $0.42 a year ago, and seven cents before Wall Street's expectations.
Meanwhile, Neri said HPE would "realign resources to areas of growth," focusing on its "edge-to-cloud" software services rather than its traditional hardware side. The ongoing social distancing rules, for one thing, make it tricky to deliver and install computers on site for customers.
He also said he expects that up to 50 per cent of HPE's workforce may never come back to work at its offices, and instead work from home, and is thus considering ditching at least some of its buildings to "reduce its real estate footprint" to cut costs.
"These are unprecedented and challenging times for all of us, not just the business, but obviously the economy and the communities," he told analysts on a conference call after the financial results were released.
"Technology and digital transformation, in my view, are more critical than ever, to enable what I think is going to be new world, the new distributed world where workforces would be located in different ways. And honestly, there will be new ways to run businesses.
"I think, our strategy to deliver a cloud experience from the edge to the cloud is more relevant than ever. The measure we announced today will allow us to protect not only our balance sheet and continue to preserve the liquidity ... but fundamentally, my goal is to adapt the organization to be more agile, to align our resources to the critical core business areas of growth, and ultimately to accelerate the strategy, which I'm very convicted which will result in a long-term sustainable, profitable growth."
HPE shares fell more than six per cent in after-hours trading, and are down 35 per cent this year. Like other corporations right now, it offered no formal guidance for future financial performance, although Neri said he hoped sales would improve sequentially in the third fiscal quarter. ®