This article is more than 1 year old
For the price tag, this iPad Pro keyboard better damn well be Magic: It isn't... but it's not completely useless either
Fondleslab feels like a real laptop, though transition is far from seamless
Apple has long toiled to position the iPad Pro as a legitimate computing device like the iMac and MacBook Pro. Earlier this year it tried to take a step closer to achieving that goal with the release of the Magic Keyboard for iPad Pro.
The Magic Keyboard tackles some of the pain points with traditional iPad cases. For starters, you can easily use it perched on your knee like a normal laptop. It also comes with a trackpad and the same scissor mechanism-based keyboard found on Apple's computer lineup. Perhaps best of all, you can easily change the elevation and display angle of the tablet – which hasn't always been possible with tablet computer cases.
As one might expect, it's arse-clenchingly expensive, even by the extravagant standards set by Apple. I paid £350 for mine. That's just for the keyboard case. The 12.9-inch iPad Pro is sold separately, with a starting price of £769.
Combined, the two items cost over £220 more than the entry-level MacBook Air, and just £80 less than the cheapest 13-inch MacBook Pro.
But is it worth it? It's a tough question. If you exclude functionality like the Apple Pencil (again, sold separately), it's hard to pinpoint what the iPad Pro can do that a bog-standard £300 laptop from PC World can't.
The thing is, Apple has never sold kit on functionality alone. The main force drawing throngs of people to the blinding LED lights of the Apple Store is experience. It's ultimately what normies pay a premium for. Recent debacles like the butterfly keyboard notwithstanding, folks have always bought Apple kit because they know it'll look good, and ultimately "just work".
The Magic Keyboard for iPad Pro lived up to that prestige. I mean, given it costs the same as a Honda Civic from 1998, you'd expect as much.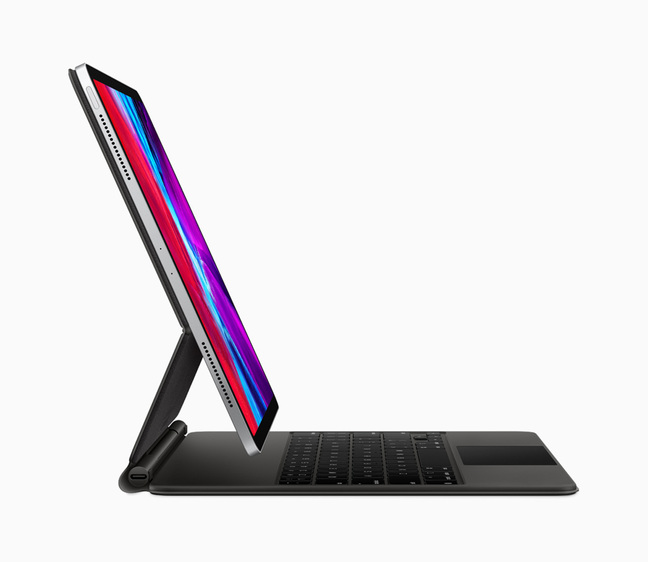 Firstly, it's heavy. As many noted upon its initial release, it weighs almost as much as a 13-inch MacBook Pro. When you combine the case with the iPad Pro, that mass feels even more apparent. Close your eyes, and you could easily believe that you're lugging an old Fujitsu business laptop from the late '90s, complete with a hard drive packed with Eagle Eye Cherry MP3s you've clandestinely downloaded from Napster.
But that weight feels necessary. If it weren't there, the whole apparatus would be top-heavy and unstable. That would be catastrophic, given that the most expensive iPad Pro configuration costs £1,619.
Connecting and pairing is wonderfully straightforward. Your iPad just snaps into place with a magnetic mechanism. There's no Bluetooth to worry about – rather, the keyboard case connects via a set of discrete contact pins on the rear of the device.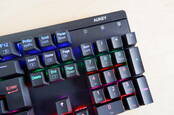 You can get a mechanical keyboard for £45. But should you? We pulled an Aukey KM-G6 out of the bargain bin
READ MORE
The keyboard itself is a wonderfully noisy joy to type on. While that might not be ideal for many people, those partial to loud mechanical keyboards (like myself) will enjoy the percussive nature of this beast.
Travel is solid, with keys moving a decent amount before bottoming out. And, unlike other thin tablet keyboards I've used in the past, the Magic Keyboard for iPad Pro feels like the real McCoy. I wasn't quite as impressed with the touchpad, however.
It's not bad, by any means. But it's not that great, either. By modern standards, it feels rather pokey. It also doesn't help that mouse support for the iPad Pro feels slightly half-baked, with interactions across apps feeling inconsistent at times.
And that sums up the biggest problem with the Magic Keyboard for iPad Pro.
From an industrial design perspective, it's an exceptional piece of hardware. It's comfortable to write on for even long periods of time. Being able to adjust the elevation and angle of the display is wonderfully useful, and it helps elevate the iPad Pro into a veritable workhorse.
But the software just ain't quite there yet. Basic things, like copy-paste, are inconsistent across apps. Although some apps let you drag to select as normal, others require you to tap furiously and then select text using the standard iOS approach. I'm also yet to figure out how to copy and paste without also carrying over formatting.
The usual MacOS keyboard shortcuts don't work consistently, either. You can't, for example, close an app with Command + Q.
You'll also inevitably encounter iOS apps that are primarily optimised for touch interactions, with the more instinctual keyboard and mouse gestures and hotkeys unsupported.
The Twitter app is a great example of that. If you click on a photo, you can't minimise it by pressing Escape, for there is no escape key. You have to lean over and actually swipe it away.
The good news is that these complaints are easily resolved with software updates, and they hopefully will be.
Should you buy it?
On one hand, if you already have an iPad Pro, it will appeal. It makes the oversized fondleslab a much more serious productivity workstation. Apple has got the ergonomics right here. It's comfortable, well built, and the keyboard surpasses pretty much any third-party iPad case I've ever used.
But on the flip side, one can't help but recognise it's obscenely expensive. For the price of the Magic Keyboard, you could probably rent a pokey terraced house in Middlesborough for a month, and still have money left over for a parmo. Try as I might, I still can't quite figure out what's the better deal. ®