This article is more than 1 year old
While waiting for the Linux train, Bork pays a visit to Geordieland with Windows 10
Behold, the three error dialogs of the borkpocalypse
Bork!Bork!Bork! As the UK tentatively returns to work and those who must venture back onto public transport, we were happy to learn that even in these changed times, Windows remains as wobbly as ever.
Today's entry comes from Register reader Dan.
Snapped last week, the Newcastle Station Info Point is terribly poorly, with three pop-ups showing Windows' escalating levels of distress.
The first sign of wobbling was the "Close programs" message, which tends to pop up when Microsoft's OS is getting short of resources. Things went downhill from there.
Sadly, whatever made the Visual C++ Runtime library show its visage is hidden behind an application error, however we suspect that the message isn't a cheery "Hi there! Everything is awesome!"
And that application error? WerFault.exe is associated with Windows Error Reporting, so the digital sign is clearly very ill indeed.
(We had high hopes that a "WerFault.exe" might be a bork that only comes out when the Moon is full, but were to be disappointed.)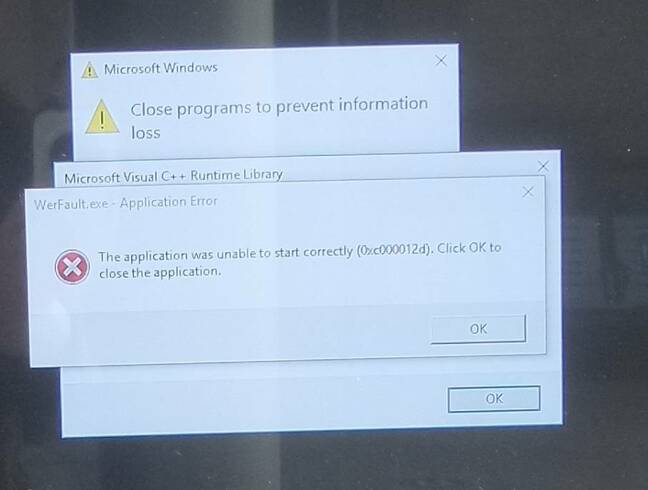 Click to enlarge
Still, three different errors work well with our theme of Bork, Bork and thrice Bork. It's like Micros~1 is paying attention.
As it's a touchscreen, we'd have asked Dan to try to swipe the dialogs away or jab at the OK buttons. But what with one thing and another, the idea of fondling any public display seems even ickier than when all we had to worry about was a light dusting of faeces.
Describing the signage as "the public information molestation station", Dan observed: "The new information boards are by and large awful.
"The minor stations have GSM(R) connected signage and that's borked as well."
The Register got in touch with Railpoint, the supplier of the sad-faced signage. While the company couldn't give an explanation of what the error meant, a spokesperson assured us "it would have been rectified within 30 minutes remotely", adding: "It's very rare that we have to attend faults in person unless it's a hardware issue."
The company went on to tell us that the units run Windows 10, but "we're about to upgrade all of our production machines to a custom Linux build to improve their stability and generally operate with more efficiency."
Those hoping to catch a rare glimpse of Windows 10 displaying all the stability of jelly nailed to a wall will be pleased to note that Railpoint's products can be found in all manner of locales, including Network Rail and London Overground. In addition, "Railpoint is hosted in highly secure data centres with ISO 27001 accreditation."
This display, however, appears to be accredited only in Bork. Unless there is an ISO standard for that as well. ®