There was good news for enterprises keen to inflict Microsoft's Edge browser on their users with the arrival of a new security baseline and a way to turn off the Surf game that arrived in version 83.0.478.37.
The baseline for Edge v83 features a bewildering potential 311 enforceable Computer Configuration policy settings and 286 User Configuration policy settings, although the company's "streamlined approach" cuts those down to 12 Group Policy settings.
The good news for those already in the Edge world is that the original version 80 baseline remains, meaning it's just the extras (numbering 19 new computer and user-based settings) that might need a bit of tinkering.
With such a spread it is not entirely surprising that organisations struggle a little with security. Microsoft is not alone – Firefox also has a range of knobs to be pushed by admins, as does Edge's Chromium buddy, Chrome.
While Edge has attracted the interest of enterprises thanks to its ability to resurrect the living dead in the form of Internet Explorer 11 when required and stick with Chromium when not, users running in the Stable channel received a free gift in the form of the SkiFree throwback, Surf.
Originally part of the treasure hunt that ended up revealing Edge's new logo last year, the game is now more broadly available and accessible by navigating to edge://surf. Those on the faster-moving Edge channels have been able to enjoy the pixel-powered delights for a few months.
The game is a classic time sponge, seeing a user surfing down an endless ocean, avoiding obstacles, or taking part in time trials. The timing of its arrival, shortly after the 30th anniversary of the original Windows-based productivity killer, Solitaire, is also appropriate.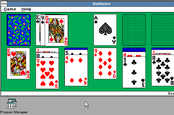 The longest card game in the world: Microsoft Solitaire is 30
READ MORE
Surf's roots are nearly as old, dating back to the SkiFree game of the Microsoft Entertainment Pack of 1991. Rather than an ocean, SkiFree had the player skiing down a mountainside, dodging obstacles.
A bit easier than Edge Surf (to the mind of this hack), the snowy version features an Abominable Snow Monster, while Surf merely has a Kraken.
Still, it is undoubtedly a fine way to whittle away the time while Chrome installs.
Enterprise users seeking surfing shenanigans might, however, be in for a bit of a disappointment: the new batch of security settings exposed a switch to turn off the game at the User and Machine level.
BOFHs can be a cruel breed. ®