Updated Cleansing Britain's phone networks of Huawei equipment by 2023 might not be possible, ministers are said to have realised after UK policy changes on the Chinese company in the last few weeks.
The Times reports that government ministers now think an outright ban would be "impossible" and are instead mulling plans "to prohibit the purchase and installation of new equipment from 2023", a U-turn on last week's plan to slash Huawei usage to zero in the next three years.
That move was made thanks to political pressure applied by the United States, which sees Huawei's state-backed domination of the telecommunications equipment sector as a threat to its own domestic industry.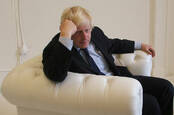 BoJo buckles: UK govt to cut Huawei 5G kit use 'to zero by 2023' after pressure from Tory MPs, Uncle Sam
READ MORE
An anonymous official told The Times that ministers had realised a rip-out-Huawei directive to Britain's telcos would set back progress on modernising Britain's mobile networks thanks to Huawei's ubiquitous presence. They said: "We'd be asking BT to essentially rip up the entire fibre optic network."
Huawei equipment is used in large parts of Britain's networks, including the core of 3G networks and significant parts of 4G LTE deployments. Recent controversy over Huawei has led to Britain banning Huawei from the core of future 5G networks and limiting its involvement in non-core equipment supply.
Telco sources who spoke to El Reg but asked not to be identified all described the pre-U-turn plans as silly, some using more colourful terms than others. One went as far as saying the current plans were also unrealistic – while praising Huawei as a "fantastic supplier". Others raised the problem of opting for a single US-approved supplier, something that poses familiar economic and supply chain risks.
Although American government officials dress their objections to Huawei in the language of national security, no US agency has ever provided evidence that Huawei has backdoored its equipment for the use of the Chinese state. While absence of evidence is not evidence of absence, one would reasonably expect such strong demands to have been substantiated by now.
Huawei itself is hurting from the renewed assault, with a defiant statement from the company's UK boss, Victor Zhang, being fired out to the press ahead of the leaks heralding this week's policy U-turn.
"As a private company, 100 per cent owned by employees, which has operated in the UK for 20 years, our priority has been to help mobile and broadband companies keep Britain connected, which in this current health crisis has been more vital than ever. This is our proven track record," Zhang said.
Regardless of the political viewpoint, Huawei seems here to stay for at least the next decade. ®
Updated at 1834 UTC on May 27 to add
The Cabinet Office told The Reg: "The security and resilience of our networks are of paramount importance. Following the US announcement of additional sanctions against Huawei, the NCSC is looking carefully at any impact they could have to the UK's networks."
Similar topics