This article is more than 1 year old
Surprise! That £339 world's first 'anti-5G' protection device is just a £5 USB drive with a nice sticker on it
Colour us shocked
A £339 "anti-5G" product billed as the "first to market full-spectrum protection" appears to be nothing more than a bog-standard £5 USB stick with an LED on the end, according to Pen Test Partners.
The "quantum" USB stick, branded as the "5GBioShield", is a "proprietary holographic nano-layer catalyst technology" and a "remediation from all harmful radiation, electro-smog and biohazard pollution".
The nano-layer – a bubble, we are assured by marketing material – has an operating diameter of either 8 or 40 metres. The USB is "resulting from research of several decades in multiple countries".
It was dismantled by PTP, whose teardown and analysis showed the device contained nothing more than a 128MB USB storage drive and an LED. Oh, and a circular black sticker.
The "quantum" stick comes pre-loaded with a 25-page PDF of marketing from the website, including a Q&A of distances of the "bubble" and ways to ascertain if it is working.
"It's an 'always on' system apparently, is always working, powered or not, so no visual checks needed," said PTP.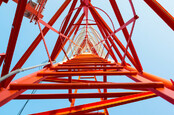 5G mast set aflame in leafy Liverpool district, half an hour's walk from Penny Lane
READ MORE
A full teardown of the item found "no electrical or other connections between the device and the 'sticker' and also no additional components other than the USB stick," PTP's Phil Eveleigh wrote.
"In our opinion the 5G Bioshield is nothing more than a £5 USB key with a sticker on it. Whether or not the sticker provides £300 worth of quantum holographic catalyser technology, we'll leave you to decide.
"We do not believe this product should be promoted by publicly-funded bodies until a full, independent, peer-reviewed scientific study has been undertaken on its effectiveness. We think trading standards bodies should investigate this product."
The product comes amid a heightened state of paranoia among many people across society that the building of 5G masts is somehow linked to cancer, a weak immune system, infertility, bad sleep, or more lately COVID-19. As Reg readers will know, it isn't. There is no evidence of this.
Anna Grochowalska, one of the two directors of the company selling the £339 USB sticks, BioShield Distribution Ltd, told the BBC in response to the obvious question about what made the item so expensive: "We are in possession of a great deal of technical information, with plenty of back-up historical research.
"As you can understand, we are not authorised to fully disclose all this sensitive information to third parties, for obvious reasons."
The Reg asked Grochowalska to comment. She does not manufacture or own the device but told the Beeb she has sole rights to distribute it. ®