This article is more than 1 year old
Clearview AI sued by ACLU for scraping billions of selfies from social media to power its facial-recog-for-cops system
Startup says it's covered by the First Ammendment, ta very much
The American Civil Liberties Union has sued Clearview AI for scraping billions of photos from public social media profiles, without people's explicit consent, to train its facial-recognition system.
The lawsuit [PDF], filed on Thursday at the Circuit Court of Cook County, Illinois, claims Clearview violated the state's stringent Biometric Information Privacy Act (BIPA). Companies operating in Illinois must obtain explicit consent from individuals if they collect their biometric data, whether it's in the form of fingerprints or photographs.
"Clearview has violated and continues to violate the BIPA rights of Plaintiffs' members, clients, and program participants and other Illinois residents at staggering scale," the lawsuit claimed.
"Using face recognition technology, Clearview has captured more than three billion faceprints from images available online, all without the knowledge – much less the consent – of those pictured."
Clearview, a startup based in New York, made headlines in January when it was revealed to have amassed a database of three billion images by downloading people's pictures from public pages on sites like Facebook, YouTube, Venmo, Instagram, and Twitter.
The dataset was used to train facial recognition algorithms, so that when images, say from a CCTV camera, are fed into Clearview's system, the code looks for a match, and if one is found, it spits out everything it knows about that person: their harvested photos, and the URLs to the source pages that typically contain more personal information, such as names and contact details. This allows Clearview's customers to turn faces in security camera footage stills into complete personal profiles, for example.
Initially, CEO Hoan Thon That said his upstart's software was only intended for cops and government agents. But a hacker broke into Clearview's systems and revealed its customer list, which contained US household staples such as Macy's, Walmart, Wells Fargo, and Bank of America, and some universities.
Various groups joined the ACLU in its lawsuit against Clearview, including non-profits and social justice organizations that support sex workers and the Latinx population in Illinois. The union described the upstart's technology as "unlawful, privacy-destroying surveillance."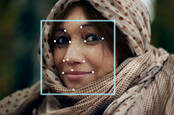 Hacker swipes customer list from controversial face-recog-for-Feds Clearview. Its reaction? 'A part of life'
READ MORE
"Given the immutability of our biometric information and the difficulty of completely hiding our faces in public, face recognition poses severe risks to our security and privacy," the ACLU said in its lawsuit.
"The capture and storage of faceprints leaves people vulnerable to data breaches and identity theft. It can also lead to unwanted tracking and invasive surveillance by making it possible to instantaneously identify everyone at a protest or political rally, a house of worship, a domestic violence shelter, an Alcoholics Anonymous meeting, and more.
"And, because the common link is an individual's face, a faceprint can also be used to aggregate countless additional facts about them, gathered from social media and professional profiles, photos posted by others, and government IDs."
Tech companies have also tried to thwart Clearview's slurping of photos. In February, Google, YouTube, Twitter, and Facebook all served the startup cease-and-desist letters ordering it to stop stealing images from their platforms, and to delete existing pics in its massive database.
"For far too long tech companies have misused our most sensitive data while facing too little consequence," said Abraham Scarr, director at the Illinois Public Interest Research Group, a nonprofit organization that's also suing Clearview alongside the ACLU.
"The BIPA is unique in that it allows Illinois residents to control not only their biometric information, but also the laws governing its use, putting the power back into the hands of the people."
Clearview's lawyer Tor Ekeland told The Register: "Clearview AI is a search engine that uses only publicly available images accessible on the internet. It is absurd that the ACLU wants to censor which search engines people can use to access public information on the internet. The First Amendment forbids this." ®