Dell says the hard part comes next after rapid pandemic response helped it to stable Q1 revenue
Predicts demand to drop off as component prices rise, no hint of layoff plans
Dell has landed its first quarter for fiscal 2021 with a tiny dip in revenue compared to the same period last year, but warned that its usual seasonal revenue and profit surges probably won't happen next quarter.
The company won $21.897bn of revenue for the three months to 1 May [PDF], compared to $21.908bn over the same period in FY 2020. Margin remained firm, as did expenses. Net income was $182m, a big year-on-year drop from $329m last time around.
The company was pleased with sales of PCs and the fact that customers turned to it as a one-stop shop they felt would be able to meet their needs as smaller rivals struggled to keep their supply chains intact during the COVID-19 pandemic. Margin on Q1 sales wasn't always brilliant as Dell scrambled to get products into customers' hands and transport costs rose.
Overall, infrastructure revenue fell 8 per cent.
Execs said they expect that the company's usual revenue jump from Q1 to Q2 won't happen this year and that increased component prices will also bite. Investment analysts were asked to consider future performance in light of global events, rather than Dell's own weaknesses. Investors were also told that Dell's cost control measures started in late March and therefore didn't make much of an impact in this quarter, so measures taken to cope with the times will become more apparent on future balance sheets. Those numbers will not indicate any changes to the company's previously planned debt reduction efforts, which for this year assume more than $5bn of Dell's $36bn debt will be paid down.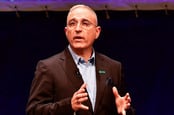 HPE's Black Thursday: Staff face pay cuts or the ax, office closures to save $1bn+ after coronavirus slams IT titan
READ MORE
The company remained optimistic that its product mix is right. Seventy per cent of sales reps reported deals in the pipeline for the company's recently launched PowerStore appliances, which can run workloads as well as offer conventional storage services, demand that was mentioned as an example of Dell being able to make markets and drive demand.
And execs said they think the demand for Dell's wares will be accelerated by the post-plague economic events. Dell's strategy assumes that we're through the first wave of corona-inspired action – rapid response to the crisis – and into a new phase of planning to do business amid new constraints. Dell reckons we'll emerge into "an accelerated digital existence" in which so much activity shifts online that businesses will want to turn all the resulting data into "meaningful business insights" that can most easily be generated if businesses buy more Dell kit.
The company did not issue new guidance for future quarters or the full financial year, instead referring to analysts' predictions that the infrastructure market will return to growth in 2021.
All of which sounds rather bleak, but compares rather well to direct rivals HPE (where revenue is down sharply and job cuts have been made) and Lenovo (where the data centre business is still struggling).
Dell, by contrast, thinks it has the product pipeline, bank balance and loyal customer base to do better. ®