This article is more than 1 year old
AR flop Magic Leap's 'pivot' spins CEO right off his throne
'Natural step' to find new leader after current one burned billions for no appreciable return
The controversial CEO of money-burning augmented-reality startup Magic Leap has announced he's leaving the job.
Rony Abovitz posted the news on Thursday, recounting how since the company "pivoted to focus on delivering a spatial computing platform for enterprise", he and the board have "agreed that now is the time to bring in a new CEO who can help us to commercialize our focused plan".
Abovitz founded the company in 2011 and helped it to raise $2.6bn of investment, plenty of it won with breathtaking "demos" of the company's AR tech that were actually just special effects videos.
Magic Leap did deliver a headset, but reviewers did not think the $2,295 gadget was particularly magical or a leap beyond competitors such as Microsoft's Hololens. Nor was it anywhere near the company's promise of a device that can be "worn all day, every day, by everyone".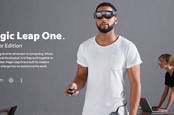 Magic Leap blows our mind with its incredible technology... that still doesn't f**king exist
READ MORE
Despite having failed to deliver his vision as leader, Abovitz wrote that he intends to stick around.
"I will remain our CEO through the transition and am in discussions with the Board with regards to how I will continue to provide strategy and vision from a Board level," he wrote, adding: "I remain super excited about Magic Leap's future and believe deeply in our team and all of their incredible talent and capabilities."
That team was halved in April 2020 as a cost control measure. However, the company last week scored a further $350m investment to help it "expand product-market fit and revenue generation".
Which we think translates as "we really must develop products somebody will pay for". The company's plans currently call for that product to deliver "the ability for businesses to operate across vast distances and connect with their customers in ways that mimic physical interactions".
And there we were thinking that converting free Teams trials into paying punters was the next big thing. ®