This article is more than 1 year old
Trump issues toothless exec order to show donors, fans he's doing something about those Twitter twerps
Amid political theater, Section 230 protection loss dangled
Analysis Following a fit of indignation at Twitter's decision to apply a fact check notice to some of his recent Twitter messages, US President Donald Trump on Thursday signed an executive order that purports to limit the liability protection afforded to internet platforms when they take action on user posts.
But the nonsensical order doesn't really do much at all. As Eric Goldman, law professor at Santa Clara University, put it in a phone interview with The Register, "It's political theater."
The President read a statement summarizing the order during a signing event at the White House.
"Currently social media giants like Twitter receive an unprecedented liability shield based on the theory that they're a neutral platform – which they are not – not an editor with a viewpoint," Trump said.
"My executive order calls for new regulations under Section 230 of the Communications Decency Act to make it that social media companies that engage in censoring or any political conduct will not be able to keep their liability shield. That's a big deal."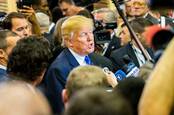 Made-up murder claims, threats to kill Twitter, rants about NSA spying – anything but mention 100,000 US virus deaths, right, Mr President?
READ MORE
The Communications Decent Act Section gives internet platforms blanket legal protections concerning the content posted by others on, or through, their services. Websites that are mere conduits can't, generally speaking, be held responsible for what's shared by their users.
Section 230 of the law says: "No provider or user of an interactive computer service shall be treated as the publisher or speaker of any information provided by another information content provider."
But websites don't have to be dumb conduits in order to be shielded from lawsuits: the law allows for editorial intervention under subparagraph (c)(2)(A) for material that is "obscene, lewd, lascivious, filthy, excessively violent, harassing, or otherwise objectionable, whether or not such material is constitutionally protected."
So when Twitter adds a fact checking notification to Trump's tweets, as it did for the first time on Tuesday, it can do without taking on editorial liability if it believes the material is objectionable, whether it's protected speech or not.
Trump's executive order says, "When an interactive computer service provider removes or restricts access to content and its actions do not meet the criteria of subparagraph (c)(2)(A), it is engaged in editorial conduct."
But the allowable criteria for intervention are broad enough that it's difficult to see how a service provider could take action on content in a way that does not meet the specified criteria.
And, what's more, Section 230 tackles user-generated content; fact-checking notes added by Twitter itself, as it did with Trump, should fall outside these rules, anyway.
Big government is bad, except when it's not
The executive order also calls for the Secretary of Commerce, the US Attorney General, and the National Telecommunications and Information Administration (NTIA) to ask the Federal Communications Commission (FCC) to propose rules that clarify the interplay between Section 230 immunity and allowable editorial intervention. The FCC is an odd choice seeing as it cannot regulate websites.
And the order calls for government agencies to review federal spending on advertising and marketing paid to online platforms. Also, it directs the Attorney General to work with the states to enforce their own laws against deceptive business practices.
"This executive order is egregiously excessive with clearly malevolent intent to suppress free speech," said US Senator Richard Blumenthal (D-CT), via Twitter. "It is a blatant attempt to use the full power of the United States government to force private companies to lie for the President."
Twitter itself branded the order "reactionary and politicized," in a tweet:
This EO is a reactionary and politicized approach to a landmark law. #Section230 protects American innovation and freedom of expression, and it's underpinned by democratic values. Attempts to unilaterally erode it threaten the future of online speech and Internet freedoms.

— Twitter Public Policy (@Policy) May 29, 2020
Harvard law professor Lawrence Tribe was similarly dismissive. "Nothing the President or agencies like the FCC and FTC can legally do could successfully censor such private internet comment, so the executive order that Trump has unfurled is a big nothingburger in terms of responding to what Twitter did to provoke Trump's outrage," he said, via Twitter.
Taking the bait
The Electronic Frontier Foundation in a blog post said the order won't survive judicial scrutiny.
EFF staff attorney Aaron Mackey, in a phone interview with The Register, said the executive order is legally nothing in the sense that Trump can't rewrite the law. But, he said, that doesn't mean it will be inconsequential.
"This is a clear effort to retaliate and attack online platforms and intimidate them and deter them from making decisions about content," he said.
While the executive order doesn't really change anything, Mackey suggested, policies or actions taken subsequently by the administration to realize the goals articulated in the order may cause problems.
Goldman said it's important to recognize the real audience for this order: Trump's political campaign donors, and, we imagine, his conservative base. "It's his way of showing he's sticking it to the powers that be," Goldman said.
"He doesn't care if it does anything. Trump has already won even if he didn't change the law one bit because he dominated the news cycle and we all took the bait."
On Wednesday, coincidentally, the US officially surpassed 100,000 COVID-19 deaths, according to Johns Hopkins University, meaning, if all figures are to be believed, America is home to 28 per cent of global coronavirus deaths and four per cent of the world's population.
And more than 40 million people in the States have claimed unemployment benefits during the pandemic. ®
Updated to add
Overnight, Twitter hid a Trump tweet, posted amid civil unrest in Minneapolis and elsewhere over the killing of George Floyd by a police officer, that said the US military should open fire on people on American soil. The tweet "violated the Twitter Rules about glorifying violence," according to the social network.
PS: The President's executive order targets social media platforms, including Twitter, YouTube, and Facebook. Even after Mark Zuckerberg kissed up to the President, Facebook was still hit by the order. Sad, as one would say.