This article is more than 1 year old
They've only gone and bloody done it! NASA, SpaceX send two fellas off to the International Space Station
Bob and Doug are first humans launched into orbit by Elon's Muskteers
Video NASA has successfully launched two American astronauts aboard an American-made rocket from American soil for the first time in nearly a decade, sending them off toward the International Space Station. It also marks SpaceX's first launch of humans into orbit.
Clad in white spacesuits and visors, Robert Behnken and Douglas Hurley strapped into SpaceX's Dragon crew capsule before it blasted off into space on top of a SpaceX Falcon 9 rocket. Huge orange plumes billowed from the vehicle as it lifted itself from the launchpad at Cape Canaveral in Florida at 1533 ET (1922 UTC). It's the second time lucky for NASA and SpaceX; its first launch attempt was aborted on Wednesday over the threat of lightning.
You can watch the launch below:
The last time the US space agency sent American 'nauts to space from America was in 2011, from the same pad as today's takeoff. The flight also marks a momentous milestone for NASA for another reason, too; it's the first time that the space agency has partnered with a private company to build everything from the touchscreen-driven capsule to the astronaut's swanky spacesuits.
"We are not owning or purchasing the hardware," NASA administrator Jim Bridenstine said earlier on Wednesday. "We are allowing American companies to innovate. It is revolutionizing how we do spaceflight, and these public-private relationships will take us to the Moon and to Mars."
Before NASA can attempt its grander ambitions, it commissioned today's trip to the International Space Station. The flight, known as Demo-2, is – as the name suggests – a demonstration of SpaceX's capabilities to take a crew of astronauts beyond Earth. All of SpaceX's previous launches to the space station only shuttled food and other supplies.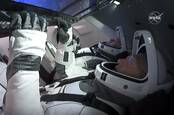 Turns out Elon can't control the weather – what a scrub: Rain, clouds delay historic manned SpaceX-NASA launch
READ MORE
The Demo-2 mission marks the start of NASA's return to an all-American launch after it ended its Space Shuttle program in 2011. Since then, NASA has had to purchase seats on Russia's Soyuz rockets from Kazakhstan, and round-trip tickets aboard these rockets have skyrocketed over time, costing $86m per seat for each of the latest launches. SpaceX charges [PDF] tens of millions of dollars less than that.
The collaboration with Elon Musk's SpaceX promises a cheaper alternative, using its 70-metre Falcon 9 rocket. The first stage of the vehicle, which carries the rocket's boosters, separates mid-air to provide more thrust to the capsule, and is designed to land back on Earth to be retrieved, refurbished, and reused for future launches.
The first stage of this Falcon rocket landed successfully on SpaceX autonomous barge, dubbed Of Course I Still Love You, in the Atlantic ocean. The name is an homage to British science-fiction author Iain M Banks' Culture series, in which he delighted in silly names for spaceships, such as Ultimate Ship the Second and No more Mr Nice Guy.
Now, Behnken and Hurley are sitting tight for the 19-hour journey to the orbiting science lab. The Dragon capsule has successfully separated from its Falcon stage, and is under its own power before docking at the station. The pair are expected to arrive before midday Sunday, US East Coast time, after spending nearly 24 hours in their seats – luckily NASA issues them diapers. They'll spend up to 120 days in the space station before they return to Earth; their capsule will de-orbit, deploy parachutes, and splashdown somewhere in the Atlantic ocean to be picked up.
When the space travelers reach the station, they'll be met by fellow NASA 'naut Chris Cassidy and Russian cosmonauts Anatoly Ivanishin and Ivan Vagner. "I can't wait to see my close friends out the window at close approach," said Cassidy.
SpaceX boss Elon can finally breathe a sigh of relief. His latest Starship SN4 prototype exploded during a test burn at Boca Chica, Texas, on Friday just one day before the Falcon 9 launch. ®