Chinese smartphone brand Vivo - one of several from the BBK stable - has lifted the lid on its latest flagship phones, whose gimmick is that they are super-slim, although the focus is on photography.
As expected, BBK's Vivo (its parent company owns both OPPO and OnePlus) has decided to recycle ideas from the concept phone it demonstrated earlier this year.
The X50 series (the X50, X50 Pro, and X50 Pro+) combines meaty specs with the usual top-shelf snappers.
The conceptual push is particularly apparent on the X50 Pro, which mounts its camera module on a gimbal-style apparatus. In addition to being an onomatopoeically funny word (just say it — gimbal), this effectively minimises the impact of involuntary jerks and body movements on videography and photography.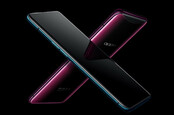 Is Oppo short for Opportunistic? BBK opens UK doors
READ MORE
Here's a very simplified explanation for how this works: a gimbal uses a variety of tools (including motion sensors) to identify motion. It then counteracts that motion. If one's hand jerks left, the gimbal will move the camera right in order to ensure it remains steady.
That steadiness will come in handy when shooting video. Vivo's also packed the camera app on the X50 series with modes designed for night photography, as well as an "Astro" mode designed to capture stunning nightscapes.
El Reg would presume these settings work by taking longer exposures than one otherwise would get with normal daytime photography. That's pertinent, because long exposure shots can become extremely blurry should the photographer accidentally move. In theory, Vivo's camera gimbal tech should mitigate this.
We've seen tech that does similar stuff, particularly on Google's Pixel mobes. That said, these implementations have been software based. With this effort, Vivo's treading a different path.
Curiously, the company's notes to The Register did not make it clear whether the X50 Pro+ includes this gimbal system. While we'd be extremely surprised to find out it doesn't, we've still asked Vivo for clarification.
Vivo claims the X50 is the world's thinnest 5G phone. The entry-level model measures just 7.49mm thick. Compare that to the Huawei P40 Pro, which is 9mm thick. And while that sounds cool, we do have a few durability concerns. After all, we're old enough to remember the "Bendgate" debacle.
Here's a quick refresher: in 2014, Apple released the iPhone 6. With a maximum thickness of 6.9mm, it remains the company's thinnest ever iPhone. It was also hilariously flimsy. If you sat down with it in your back pocket, there was a genuine prospect the phone could become deformed.
Subsequent efforts, however, are slightly bulkier. The iPhone 11, for example, is 8.3mm thick. While Apple hasn't officially given confirmation, the prevailing thought is that Apple added that extra girth in order to prevent their phones from looking like an faux EU-regulation banana. Or a Cumberland sausage. Take your pick.
It seems like a moot point, given that most sensible users will end up covering their devices in some kind of protective case.
Let's talk about specs. The X50 Series has the usual top-tier specs you'd expect from a flagship, including 90Hz and 120Hz display refresh rates, a choice of Qualcomm Snapdragon 765G and 865 platforms, 8GB of RAM, and 128GB or 256GB storage.
Vivo has typically stuck to its China homeland, leaving the international market to its its bigger brethren, like OPPO and OnePlus. However, the X50 series will be different, and will see a broader international release, according to Spark Ni, senior veep of Vivo. Pricing and availability however, are not yet known. ®
Similar topics