This article is more than 1 year old
Tech set responds in wake of American protests, police violence and civil unrest
Cisco cancels Live web conference, Google delays Android Beta, SAP boss voices support for Black Lives Matter
Tech vendors and execs are sympathising with the ongoing protests across the US, in the wake of the murder of George Floyd and other African Americans, by delaying conferences or launch events.
Floyd, a black American man, died on May 25 as police officers arrested him, one kneeling on his neck for eight minutes and 46 seconds. One officer has been charged with his murder. The incident has sparked Black Lives Matter protests in cities throughout the country, some of which have been accompanied by civil unrest, looting, and police brutality.
For its part, networking giant Cisco has postponed its planned virtual event Cisco Live, set to start today. CEO Chuck Robbins said in a pre-recorded YouTube video that the COVID-19 pandemic and the resulting disruption to business and family life was one reason to delay to the conference. But there was another, he said.
"Today we find ourselves facing another pandemic, not one that is new by any means, but one that we must confront. The recent murders of George Floyd, Ahmaud Arbery and Breonna Taylor, and so many more before them, are horrific, maddening and truly abhorrent," he said.
"People across the US and the world are dealing with so much pain, frustration and anger. We want to give you space this week to do what you need to do within your own organizations and communities."
Robbins said Switchzilla has donated $5m to charities that fight racism. "This is just the first step. There is so much more we can do beyond just a statement of solidarity or financial support, including acknowledgement, understanding and action," he added.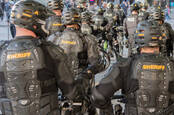 As anti-brutality protests fill streets of American cities, netizens cram police app with K-Pop, airwaves with NWA
READ MORE
In a world where CEOs are more accustomed to making vague statements about corporate social responsibility and avoiding more overtly political statements, these are strong words.
African American Ahmaud Arbery, a 25-year-old who had been going on a jog, died on 23 February and two people have been charged with his murder. Breonna Taylor was shot and killed on 13 March after police raided her home with a so-called "no-knock warrant", although no one has yet been charged in connection with her killing.
Cisco was not the only tech company to react to the wave of protest and violence engulfing the United States.
Google has postponed the launch of the beta for its Android 11 mobile operating systems. A statement on the launch website reads: "We are excited to tell you more about Android 11, but now is not the time to celebrate. We are postponing the June 3rd event and beta release. We'll be back with more on Android 11, soon."
SAP North America president DJ Paoni had reportedly sent a memo to employees addressing the company's views on the death of George Floyd and other victims of police violence while CEO Christian Klein tweeted in support of Black Lives Matter.
Social media "influencers" and businesses' social arms have also joined protests by instigating a BlackOutTuesday, postponing posting new content. Beverly Hills-based United Talent Agency has joined this initiative. ®