This article is more than 1 year old
If you bought a CRT monitor, TV 13+ years ago, hold on a little longer, there may be a small check for you
Price-fixing scandal case rumbles on and on, and on and on, and on and on
Nearly 13 years after the first court papers were submitted, a California class-action lawsuit over CRT monitor and TV pricing drags on.
Monday's appeal of an amended settlement plan marked the 5,733rd filing in the case between consumers and companies that built and sold the cathode ray tube screens between 1995 and 2007.
The brouhaha centers on allegations that a group of CRT manufacturers and vendors sought to artificially inflate CRT prices over the twelve-year span that marked the end of life for the technology. The manufacturers jacked up prices to stores and other makers, who in turn passed the cost along to consumers.
Among the defendants named in the original complaint [PDF], filed on November 26, 2007, were Hitachi, Toshiba, Philips, Samsung, and Matsushita. As with all class-action cases, a small group of named plaintiffs and their attorneys (mostly their attorneys) sought a massive payout that (after attorney fees) would be divided up between everyone who qualified, in this case people in the US who bought a CRT made by one of the factories in the specified period, and applied for compensation.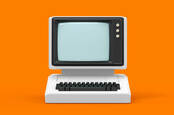 Hey kids! Ditch that LCD and get ready for the retro CRT world of Windows Terminal
READ MORE
After what at the time felt like a long, drawn-out process, the two sides agreed on terms of a settlement in 2015. That deal included a $563m payout to the class, though it was never finalized.
Fast-forward five years to the present, and we still have the lawyers griping to the court in Oakland, California, over the finer points of the package. In this latest filing [PDF], attorneys argue over who gets the now-$513m settlement package.
The US federal district judge presiding in the case, Jon Tigar, has yet to rule. It is anyone's guess when the entire thing will be finalized.
Even then, at this point it's unclear how much of the money would actually make it to members of the class, nor do we have any idea how people will be able to show proof-of-purchase on a monitor or TV they bought 25 years ago.
Still, the lawyers should make out well. ®