Choose your own adventure: HP's new Omen 15 gaming laptop offers choice between AMD and Intel processors
Are you Team Red or Team Blue?
HP has refreshed its Omen 15 gaming laptop, and choice is the name of the game here. This effort emphasises customisation, extending to providing an option between Intel and AMD chips.
Punters can go with an Intel Comet Lake H-Series processor or a Ryzen 7 H-Series chip if they plump for AMD.
That decision determines the extent of customisation, with Intel die-hards getting a wider selection of graphics cards, including an Nvidia GeForce RTX 2070 Super-Max-Q card. AMD fans have to make do with the GeForce GTX 1660 Ti.
In a middle finger to Apple, HP has opted to make the RAM and storage user-replaceable. The Omen 15 2020 supports up to 32GB of RAM, plus 1TB of NVMe. With two PCIe slots available, one can even set up one's own RAID 0 arrangement.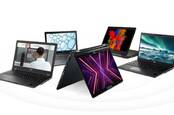 Fujitsu unveils new laptops 'optimized for remote work' – erm, isn't that what laptops have always been for?
READ MORE
There are some cosmetic changes. The HP Omen 15 2020 is thinner than its predecessor, with tighter bezels, and a display that can move 180˚ to a flat position.
Cooling gets a bit of attention too. Fans are 15 per cent larger with 25 per cent larger blades. This, HP claimed, results in a 62 per cent increase in airflow. Augmenting this is an IR thermopile sensor, which can more accurately track hotspots within the machine, allowing the fans to respond appropriately.
Overall, there are few surprises here. As is often the case in the personal tech world, the Omen's specs were leaked in April, conclusively proving nominative determinism is a thing for laptops too.
The Omen 15 is available now in the US, with a starting price of $999. So far, there's no word on UK pricing or availability. ®