This article is more than 1 year old
Not just its VCS console that's MIA, Atari is a no-show in court, too: Reborn biz ignores hardware architect's lawsuit over unpaid wages
12,000 people waiting for hardware, 500 might get it this month. Might
Atari is on track to lose by default in a lawsuit brought by the architect of its much-delayed VCS games console over unpaid wages.
Rob Wyatt sued the iconic games company in April for failing to pay him months of wages, showing a Colorado court invoices that totaled $261,720. The company was served with a summons at its US headquarters in Delaware two weeks later, and failed to respond by a deadline of May 13.
As such Wyatt has filed for a default judgment against Atari: something that he is very likely to receive, given the earlier failure to respond and the legal process required.
Wyatt's business, Tin Giant, was hired by Atari to turn what was nothing more than a marketing concept into an actual product but resigned in October 2019 after he said he hadn't been paid for six months.
Wyatt – a games industry veteran who co-created the Xbox – is not the only one to have taken legal action against Atari over the ill-fated project. In July 2018, it was sued by the man who first proposed the Atari VCS as a modern version of the classic 2600 console: Feargal Mac Conuladh. Conuladh claimed Atari had reneged on a deal to give him a four per cent cut of crowdfunding revenues over $200,000, plus 25 per cent of the limited company set up to launch the console – Atari VCS LLC – and shares in the Atari company.
Atari raised more than $3m in crowdfunding to develop the console yet Conuladh never received the $112,000 he was owed, according to his lawsuit. The case was settled out of court in New York in May this year with Atari, later noting in its 2019 financial statement that Conuladh was paid €75,000 ($82,400).
The console has had a rocky past, almost from the moment it was announced by Atari CEO Fred Chesnais back in July 2017. A planned launch in December that year was cancelled the day before, with no explanation. Then Atari's COO turned up at the Games Developer Conference (GDC) in San Francisco in March 2018 and, to our amazement, showed a Reg reporter nothing more than an empty plastic box and then refused to discuss any details of the planned console or explain the launch cancellation.
Fake news
Yet Atari enjoyed enthusiasm for its iconic brand, egged on by a mostly unquestioning games industry press, raised millions in crowdfunds, and dismissed our coverage on the non-existent product as fake news. It wasn't until four months after the "launch" of its console that Atari announced it had hired Wyatt to actually build the device.
People imagine that Atari remains a large company but in reality it is no more than a corporate shell with the rights to the Atari name, and has only two employees, both of which are marketing people and have no software or hardware development experience.
That complete lack of knowledge showed as the company repeatedly stumbled in its efforts to produce an entirely new games console. Even its marketing efforts made no sense.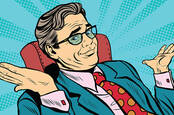 Atari accuses El Reg of professional trolling and making stuff up. Welp, here's the interview tape for you to decide...
READ MORE
Rather than pitch a retro games console, which had been done very successfully by Nintendo with the mini NES and SNES, Atari COO Michael Artz insisted it would be an up-to-date console that would play modern games.
Despite its successful crowdfunding campaign, however, Atari didn't have anywhere near the resources to create a console from scratch, and so ended up taking a series of shortcuts that have made the finished version of the VCS – which is yet to ship in a meaningful way three years later – not very appealing.
When it does finally hit the market, it will be under-powered, and will rely on a largely unknown game streaming service for anything beyond Atari's games: a service that users will have to pay extra for. There are no outside developers on board, and no ports of popular games.
Atari has repeatedly reopened for "pre-orders" – many suspect because it has repeatedly run out of funds – and as things stand, last week promised that it will have an initial run of 500 consoles available by the middle of this month. There are however nearly 12,000 increasingly angry netizens who have paid as much as $400 for each box.
The fact that Atari is heading into a default judgment in lawsuit brought by the bloke tasked with creating the console – it didn't even respond to the allegations – is just one sign that the Atari VCS is destined for the dustbin of history. No comment from Atari was received at time of publication. ®