This article is more than 1 year old
Smartphones, PCs, and now wearables... Coronavirus wrecks another corner of tech
17% growth pre-pandemic now a measly 5%
Sales of wearable tech are estimated to slow in 2020 as consumers slam the brakes on non-essential spending. ABI Research is expecting 27 million fewer units sold against earlier forecasts, for a total of 254 million.
That figure still represents 5 per cent growth against 2019's stats, when 241 million wearables were bought. Still, it contrasts starkly with pre-pandemic calculations that anticipated 17 per cent growth.
It also corresponds with wider movements in the consumer tech market, with most device categories suffering.
Recent research from Canalys paints a grim picture for the PC and tablet market, with 2020 sales forecast to decline 7 per cent (or 27.8 million) to 367.8 million units. Meanwhile, Gartner reckons 75 million fewer smartphones made their way to punters during the bloodbath of Q1, with the market down 20 per cent year-on-year in that period.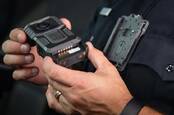 COVID-19 sparks new wearables to push the pandemic away
READ MORE
ABI Research says the decline would have been worse, if not for the performance of healthcare-related wearable tech, which has proven invaluable to contain and monitor the spread of COVID-19. The government of Hong Kong, for example, has been issuing air arrivals with electronic wristbands that ensure the wearer doesn't break quarantine rules. These replaced previous "dumb" wristbands that used a QR code to identify the user.
The analyst said it expects an increased demand for consumer-targeted healthcare wearables to continue.
Citing wider health awareness, ABI Research's Stephanie Tomsett said: "Wearables with advanced health monitoring features will begin to buoy the wearables market in the second half of 2020 and pave the way for 289 million wearable shipments by 2021 and 329 million by 2022 as the world recovers from the pandemic."
Premium wearables offer advanced monitoring features, including ECG and blood oxygen tracking, as well as arrhythmia and sleep apnea detection. And with concerns about COVID-19 set to continue as the world waits for a vaccine, it's plausible these devices will cease to be considered luxury items, but rather a healthcare necessity. ®