This article is more than 1 year old
Amazon warehouse workers sue over safety concerns as several contract COVID-19
One employee went on to infect her cousin, who later died
Amazon.com employees have sued the e-commerce giant for failing to protect them against the coronavirus, after they contracted COVID-19 and infected their relatives or partners.
The action has been brought by workers at a New York One warehouse called "JFK8" after one staffer tested positive for the disease in March and spread it to several family members, one of whom later died in April. The lawsuit [PDF] filed in the Court for the Eastern District of New York this week claims that Amazon has deliberately instilled a culture of fear and secrecy to keep its employees working during the pandemic.
The plaintiffs said that employees are under "constant technological supervision" to make sure they're working at "dizzying speeds". The suit alleges that staff cannot maintain social distancing at work or take the time out to wash their hands or sanitize work areas.
The lawsuit also alleges that Amazon advises staff not to inform co-workers if they're infected or have COVID-19 symptoms. Instead, they're told to contact an on-site clinic that is not properly licensed for medical care and must ask human resources staff if they need to quarantine, the court was told.
"This case is about Amazon's failures to comply with New York law and state and federal public health guidance during the COVID-19 pandemic at the JFK8 facility," according to the lawsuit. "Upon information and belief, as of June 2, 2020, there have been at least 44 confirmed cases of COVID-19 at JFK8."
Under current rules, employees in New York are entitled to paid leave if they test positive for COVID-19 and have to quarantine. But Amazon has failed to pay its sick warehouse workers on time, the suit alleges. One employee said that after having waited for weeks, the compensation was not paid in full.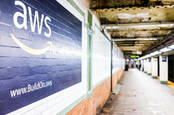 'VPs shouldn't go publicly rogue'... XML co-author Tim Bray quits AWS after Amazon fires COVID-19 whistleblowers
READ MORE
Amazon hired 175,000 new staff in April to cope with increasing demands. Strict rules are enforced to ensure they're productive. Workers are monitored and tracked "on a minute-by-minute basis" by technology that determines if they're working or "off task". Unpaid leave is docked by a full hour if they're more than five minutes late to work.
Employees were given unlimited paid time off at the start of the coronavirus pandemic but Amazon has retracted that as of May. The wage increase of $2 per hour in March has also been slashed in June, Recode first reported. Amazon has more than 125,000 full time employees working across more than 75 of its "fulfillment centers" across the US.
The Register has contacted Amazon for comment. ®