This article is more than 1 year old
Namesco email 'scripting error' has last bastion of Demon Internet holdouts scratching their heads
Let's play 'That's Not My Subdomain'
There was another twist in the long-running Demon subdomain saga yesterday as Namesco accidentally mixed up some customers due to a "scripting error."
A Register reader received an email from the outfit with the familiar exhortation to update their old Demon domain to something a little longer lasting.
Former Demon subdomain customers were licensed by Vodafone to Namesco years ago, and earlier this year the company began letting them know that the end was nigh for their beloved and elderly demon.co.uk subdomains.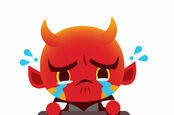 Oh Hell. Remember the glory days of Demon Internet? Well, now would be a good time to pick a new email address
READ MORE
However, while the email was sent to the correct domain, the one referenced within was something completely different (and not one our reader owned).
"Doesn't exactly fill you with confidence," he observed.
The cut-off date was 29 May because, according to Namesco, "the arrangement was always temporary and the licence period has now come to an end."
However, Vodafone granted a stay of execution and the licence was extended to 1 September to give customers a bit longer to migrate.
Namesco, ever keen to get those holdouts shifted, sent out an email seen by The Register urging customers to migrate by 28 July, adding: "It will no longer be possible to route any incoming email or web traffic via the Demon domain after the deadline."
So far so good... except the domain highlighted was not the domain in use.
In classic Who, Me? style, a spokesperson for Namesco summarised what had happened:
This afternoon at 2:14 pm we started to email a number of customers who we have not yet heard from regarding the move of their Demon subdomain. At 2:18 pm we paused the communication as a scripting error was identified which unfortunately meant that the email received by these customers did not reference their correct subdomain. No further emails were sent until the issue was resolved.
The spokesperson added: "The email scripting error was an unfortunate manual oversight and whilst we're very sorry for the confusion caused, we were able to quickly clear the situation up for customers and obviously no personal information has been incorrectly shared."
Oopsie.
Email snafu aside, the incident is a reminder for those with email accounts that date back to the early internet that the time has finally come to switch. The Demon subdomain is going away in less than two months, and a further delay in execution is looking highly unlikely. ®