This article is more than 1 year old
Keep it clean you lot: Samsung's created a hand-washing app for its wearables
Complete with nagware and wash-tracking features
Users of Samsung's wearable devices can now get their hands on a hand-washing app that runs on their wrists.
Citing University College London research that washing six-to-ten times a day lowers infection risks, the company suggests that even in lockdown many of us are too busy to remember it's time to get soapy.
Enter "Hand Wash", an app that lets users set a schedule for hand-washing, records each wash and – natch – tracks the activity. Or as Samsung puts it:
"On the Hand Wash app's dashboard, users can easily keep track of how long it has been since they last washed their hands, as well as review their daily handwashing target number and how many times they have washed their hands so far in a day. If users find themselves washing their hands before their next scheduled reminder alarm, users can just tap the 'Wash now' button before washing their hands to disable the upcoming alarm."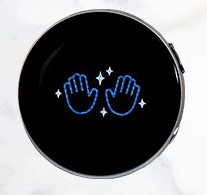 . The cutesy icon you'll see after washing your hands. Click to enlarge
The app even sets a timer to guide you through the 20 seconds recommended as the minimum time required for a corona-crushing lather. Once you're done, your wearable will reward you with the little jazz hands icon depicted above.
The app runs on Samsung's Gear S3, Gear Sports, Galaxy Watch, Galaxy Watch Active and Galaxy Watch Active2, and can be found in the Watch section of Samsung's app store. ®