This article is more than 1 year old
Sophos puts 100 at risk of redundancy as future of Naked Security blog hangs in balance
Firm denies shutdown of marketing organ but heads may well roll
Exclusive Sophos has placed 100 staff at risk of redundancy and is said to be shutting down its Naked Security blog, sources have told The Register - although the private equity-owned biz denied this.
A person familiar with the matter told El Reg that 100 personnel, mainly in the antivirus company's sales engineering division, were told their services would no longer be required yesterday.
The layoffs are hitting staff across multiple divisions and in overseas locations as well as the UK, though we understand that Britain is the worst-hit location.
Other sources claimed to El Reg that Sophos' marketing blog, Naked Security, was due to be shut down – something the company denied when we put it to them. The blog, which won a "legend of cybersecurity" award at a blogger award ceremony earlier this week, is due to be put on ice, well placed sources insisted.
Sophos spokeswoman Tilly Travers told The Register: "We can assure you that Naked Security is fully functioning and will remain that way."
She added: "Sophos is implementing some internal restructuring to respond to the change in market conditions associated with COVID-19, and to accelerate the evolution already underway to our next-gen product portfolio… A restructuring is always a difficult decision, but we believe it is necessary to position Sophos for continued growth and success in the years to come, and to continue to provide advanced, world-class protection for our customers."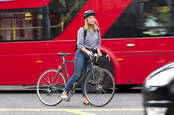 Sophos was gearing up for a private life – then someone remembered the bike scheme
READ MORE
UK-based staff are being laid off while the nation's counter-coronavirus lockdown and furlough scheme remains in (nominal) force.
If Sophos put those staff on furlough now instead of making them redundant, their salaries would be guaranteed by the state with Sophos paying, eventually, 20 per cent of that, up to a capped maximum of £2,500 a month. They would have had to act fast under the new rules, however, as the final date by which an employer can furlough an employee for the first time will be 10 June. Furloughing staff could preserve their jobs until October, as explained by consumer financial news site MoneySavingExpert.
Sophos could be seen as making 100 staff redundant to avoid a monthly recurring furlough bill of up to £50,000, based on paying 20 per cent of £2,500 for a hundred people. In its last public financial update for the six months ended 30 September, the company said it made a net pre-tax loss of $1.5m on revenues of $365.8m; revenues were, nonetheless, said to be up 5 per cent year-on-year.
Last October a US private equity corporation bought Sophos for just over £3bn, as we reported. Chairman Peter Gyenes said at the time: "Under Thoma Bravo's ownership we expect Sophos to accelerate its evolution and leadership in next-generation cybersecurity."
Thoma Bravo owns, among other things, shareholdings in McAfee, Symantec and Barracuda Networks. In February the buyout was temporarily derailed, by, of all things, Sophos' cycle-to-work loan scheme. ®
Updated to add
Other sources have now confirmed to The Register that Sophos is slashing 16 per cent of its worldwide headcount, which, judging by its 2019 total of 3,400 people worldwide, works out at about 540 staff.
In an all-staff email chief exec Kris Hagerman said: "Affected employees or their Works Council representatives, where applicable, have now been notified. For some affected employees, this is the start of a period of consultation. Others are now entering a transition period leading up to their departure, with some employees leaving Sophos this week. Approximately 16 per cent of all Sophos roles are potentially impacted."