This article is more than 1 year old
SpaceX is about to launch its first Starlink internet satellite sporting a sun visor following complaints by astronomers
Star light, star bright, you're being blocked out by these satellites
Updated After complaints from astroboffins, a SpaceX Starlink internet satellite is set to launch tonight with a deployable visor designed to stop sunlight reflecting off its metallic body.
The bird will be part of another fleet of 60 Starlink satellites due to lift off from the Cape Canaveral Air Force Station, Florida, at 2125 ET (0125 UTC). They'll all be hitching a ride to low-Earth orbit atop a refurbished Falcon 9 rocket used in four other missions.
You can tune into the launch below.
If all goes to plan, there will be a total of about 480 satellites in the internet-relaying Starlink constellation. SpaceX boss Elon Musk said he plans to send up to 12,000 of them eventually to create a large network to wirelessly beam high-bandwidth broadband to Earthlings.
As the number of Starlink birds increased around our planet, astronomers complained the satellites blocked the view for space telescopes and observatories. SpaceX's satellites look like a string of lights as they reflect the Sun's rays from their surfaces. As they move through the field of view, they block out signals from distant stars and galaxies, preventing scientists from observing objects of interest.
"Satellite constellations can pose a significant or debilitating threat to important existing and future astronomical infrastructures, and we urge their designers and deployers as well as policy-makers to work with the astronomical community in a concerted effort to analyze and understand the impact of satellite constellations," the International Astronomical Union said in a previous statement.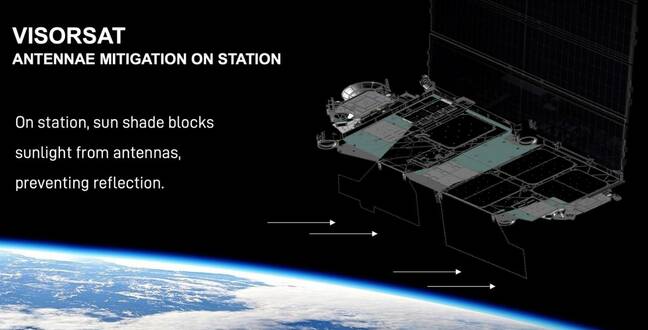 The VisorSat design ... Source: SpaceX. Click to enlarge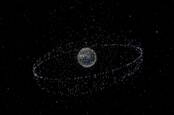 Astroboffins may have raged at Elon's emissions staining the sky, but all those satellites will be more boon than bother
READ MORE
SpaceX has been working with eggheads to minimize the problem. It promised to reorient the satellites knife-edge to the Sun so they reflect less light, via a software update. In a launch in January, another 60 Starlink satellites flocked to space, and one known as DarkSat was covered in a coating to make it about 55 per cent less reflective than previous models.
This latest launch contains the first VisorSat, an experiment into exploring effective ways to minimize reflectivity. VisorSat has a shield that can be deployed to cover the satellite's brightest parts from sunlight.
SpaceX hopes to recover the first stage of its Falcon 9 rocket on its Just Read the Instructions droneship in the Atlantic Ocean. If bad weather scrubs the launch, however, it'll make it second attempt to blast its satellites into orbit a day later on June 4 at 2103 ET (0103 UTC).
It's the latest SpaceX flight after another Falcon 9 rocket sent two NASA astronauts to the International Space Station last week. The launch marked the first time the US agency sent its astronauts to space in an American-made rocket from American soil for nearly a decade. Robert Behnken and Douglas Hurley successfully made it to the ISS in SpaceX's Dragon crew capsule less than a day later. ®
Updated to add
SpaceX has confirmed all 60 of the Starlink satellites made it into orbit and have successfully deployed.
The small sats will now use their Hall-effect thrusters to get into position and start shifting data. We'll also see if this sun visor idea really works.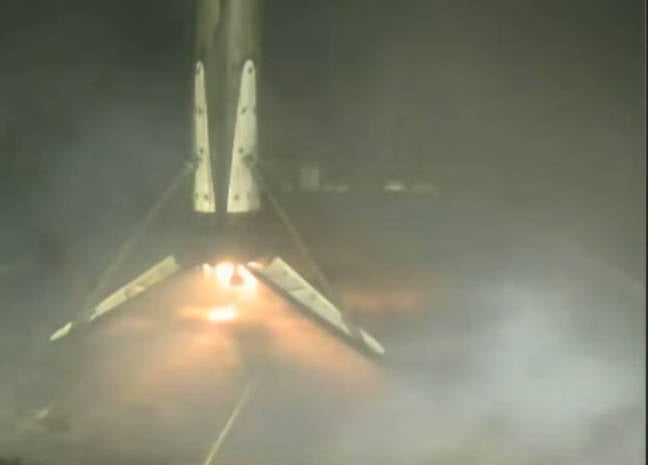 Touchdown. Iain Banks would be proud ... The first stage of the Falcon rocket lands back on Earth. Source: SpaceX
The first stage of the Falcon 9 rocket returned safely to Earth, landing on the drone ship. It was the fifth trip into space for this particular first stage, suggesting the days of disposable boosters may well and truly be at an end.