VMware beefs up security chops with Lastline acquisition, reportedly drops 40 per cent of staff
Security firm's swallowing may leave many staff out in the cold
---
VMware is acquiring antimalware company Lastline to boost its network security offerings.
The virtualization giant announced on Thursday that it has agreed to terms with the privately-held Lastline, which specializes in sandbox analysis of malware and network detection and response (NDR) products.
As Lastline is privately held, terms of the deal are not being disclosed.
In making the deal, VMware says it hopes to add better malware and attack detection abilities to its NSX network virtualization platform. In particular, VMware says, the AI-powered detection tools and malware analysis features of Lastline should prove useful for NSX.
"The NSX architecture will allow Lastline to perform network analytics at massive scale, across tens of thousands of cores, without the burden of tapping network traffic," VMware networking and security senior VP and general manager Tom Gillis said of the deal.
"Furthermore, NSX has an intrinsic understanding of application topology and speaks Layer 7. So it knows the difference between a web server and a database and understands what an application is doing."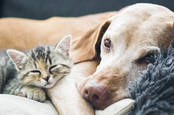 Microsoft and VMware end ancient grudge with new VM privilege workaround
READ MORE
There is also something of an acqui-hire element to the deal, as Gillis notes that getting the services of the Lastline research team was also part of the reason the virtualization giant busted out its checkbook.
"Upon close of the deal, we will bring a world class team of network-focused anti-malware researchers and developers, and go-to-market security experts, into the NSX team," said Gillis.
"Lastline boasts several of the top 10 most published security threat researchers globally, and the Lastline team has been credited with bringing structure and rigor to the world of malware research."
Not every Lastline worker will be so warmly welcomed, we hear. An anonymous source tells The Register that part of the deal includes a 40 per cent reduction in staff at Lastine, about 50 or so employees.
"No opportunity to find other positions inside 25,000 employee-strong VMware," our tipster laments.
"Most fired employees will receive 2 weeks pay and a very limited equity payout. Probably about 1 or 2 weeks worth of pay."
While redundancies are an unavoidable part of any acquisition that sees one company completely absorbed into a larger operation, such drastic cuts are pretty uncommon. The timing of these layoffs would also be particularly brutal, as the world finds itself mired in economic problems thanks to the Covid-19 pandemic and resulting lockdowns.
Again, these are only reports and there is no official word on where or how many staff could be or already have been cut as part of the deal. VMware declined to comment on the matter, while El Reg has yet to hear back from the Lastline camp. ®
Tips? Feel free to reach out.