This article is more than 1 year old
Korean prosecutors seek arrest warrant for Samsung's heir apparent
Fraud allegations regarding health company transaction mean more strife for Lee Jae-yong
South Korean prosecutors have requested an arrest warrant for Samsung Group heir, Lee Jae-yong, as part of a investigation into an alleged $3.9bn accounting fraud.
The Seoul Central District Prosecutors Office said on Thursday it had sought arrest warrants for Lee and two former top executives, Choi Gee-sung and Kim Jong-joong, from the group's now-disbanded control tower, the Future Strategy Office.
The three men are suspected in a scheme that secured Lee's succession as heir of the conglomerate by inflating the value of Cheil Industries and lowering that of Samsung C&T before their merger in 2015. Lee, the largest shareholder in Cheil Industries with a 23.2 per cent stake, is suspected of doing rather well once the transaction concluded.
The filing comes as part of financial regulators' ongoing investigation of Samsung Biologics, a subsidiary of Chiel Industries. Prosecutors have previously argued that Lee and a group of executives inflated the value of the medicine-making firm by as much as $3.9bn. Eight employees were found guilty of destroying evidence linked to the investigation in December. Samsung BioLogics has disputed the claim of accounting fraud.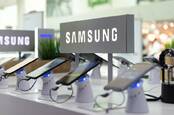 Dad to kids: I've decided you don't get to take over the family business. Kids to Dad: Who wants to run Samsung anyway?
READ MORE
The prosecutors in the latest case said they would pursue the men on charges of violating capital market laws, stock price manipulation, as well as breaking rules around external audits of corporations and making false testimony.
Lawyers for Lee and the two aides denied the allegations and sought an external review of the probe, according to Korean newswire Yonhap. They expressed "strong regret" over the filing and accused the prosecutions "unprecedentedly intense" probe involving more than 50 search and seizure operations and 110 people.
The news is the latest legal headache for Lee, who has been at the centre of several high-profile cases in recent years. In 2017, he was sentenced to five years in prison for using company funds to bribe Korea's then-president, Park Guen-hye (who was later impeached and imprisoned on corruption charges), before being overturned a year later. He is currently being reviewed in the appeals court. Lee has denied the charges.
Lee has been Samsung's de facto leader since 2014, when his father, Lee Kun-hee, was incapacitated by a heart attack. Last month, he made a rare public apology for a number of high-profile scandals that have rocked the South Korean conglomerate. As part of his apology, Lee said he would not pass down management of the group to his children, ending three generations of dynastic rule. ®