This article is more than 1 year old
Franco-German cloud framework floated to protect European's data from foreign tech firms slurpage
Economy Ministers mark official launch of GAIA-X project
The Economy Ministers of Germany and France, Peter Altmaier and Bruno Le Maire, held a media event on Thursday to talk up GAIA-X, an EU data infrastructure initiative aiming to take on Silicon Valley and Chinese behemoths to protect data.
"We are wholeheartedly convinced that the final success of this digital moonshot will be crucial for Germany, for France, and for Europe as far as our economic strength, our competitiveness, and our sovereignty are concerned," said Altmaier at the event.
Introduced as a concept last October, GAIA-X will be set up as a non-profit foundation in Belgium where it will define the rules of engagement by which cloud service providers can interoperate under EU regulations. The project's stated goal is to ensure data sovereignty, data availability, interoperability, portability, transparency and fair participation.
In short, it's an attempt to define a space that's safe from US and Chinese cloud giants and conforms with EU data protection requirements. It's part of the broader European Data Strategy.
A group of 22 companies from France and Germany have been participating in the project's development as founding members, including telecom firms like Deutsche Telekom and Orange, manufacturers like Bosch, BMW, and Siemens, and cloud computing providers like Atos and OVHcloud. Project documentation claims that about 170 people from 150 companies, research institutes, and other organizations are helping to bring the project to fruition.
According to consultancy Canalys, AWS captured about 32 per cent of the global cloud infrastructure market in Q4 2019, about two times more than Microsoft Azure and over five times more than Google Cloud.
European cloud companies don't show up on that list and that's something of a sore point. As one of the GAIA-X documents observes, "Europe's digital infrastructure currently lies in the hands of a small number of major non-European corporations: Europe has no notable operating system developers, no relevant search engines, no global social network and no competitive cloud infrastructure."
GAIA-X, it's hoped, will make Europe rate again, or something along those lines.
A technical prototype of the platform is due by the end of the year. The ecosystem consists of Nodes (computational resources), Services (cloud service providers), Service Instances (one or more Nodes doing something), and Data Assets (sensitive info).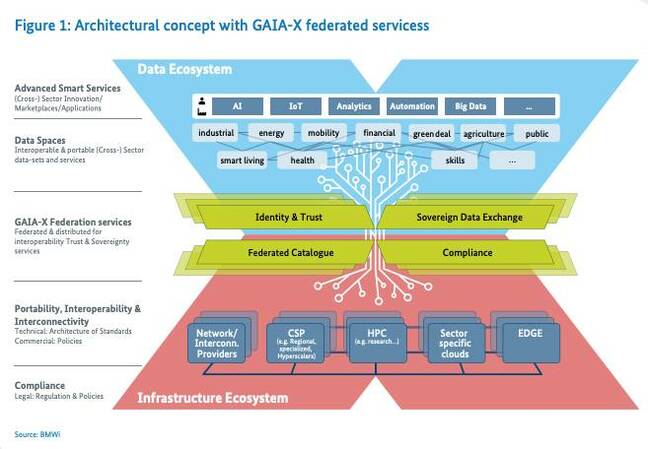 It encompasses identity and trust management, service discovery and description, standards for interoperability, policy enforcement, contractual options, and monitoring and metering.
Europeans have tried this before with Qwant, another Franco-German project intended to serve as a more privacy-focused alternative to Google Search. It hasn't yet made much of dent in Google's business, but perhaps further protectionism will raise the service's profile.
French Economy Minister Le Maire said, "We are not China. We are not the United States. We are European Countries with our own values and with our own economic interests that we want to defend." ®