This article is more than 1 year old
Huawei launches UK charm offensive: We've provided 2G, 3G and 4G for 20 years, and you're worried about 5G?
'High-risk' comms vendor says Blighty will be sorry if it limits firm's involvement
Chinese comms bogeyman Huawei has embarked on a UK-wide ad blitz in the wake of reports its telco kit would be ripped out of the country by 2023 to "commemorate 20 years in the British market".
The cornerstone of this campaign is an open letter addressed to the British public.
"For nearly 20 years, we've supplied the UK's mobile and broadband companies with 3G and 4G. But some now question our role in helping Britain lead the way in 5G," the open letter says.
"While many in cities have fast, reliable connections, others are not so lucky. We know a poor connection makes working from home, or running a small business, harder than it should be. New 5G and full-fibre broadband networks will fix these problems and we're working to bring high-speed connections to every part of the country."
The letter alludes to the Chinese telecommunications giant's ongoing problems with the UK government, which is being heavily leaned on by the US. The Trump administration has placed the Chinese firm on the country's so-called Entity List, barring it from trading with US firms. Separately, it has also excluded it from competing for domestic public tenders for government comms, prompting lawsuits from Huawei.
Some have claimed the Trump administration's concerns have more to do with losing the 5G arms race than anything else, but ostensibly its chief worries have been chalked up to security, with the US government claiming Huawei's 5G kit could be backdoored by Beijing.
For its part, earlier this year, the UK's Department for Digital, Culture, Media & Sport (DCMS) labelled Huawei as a "high-risk" vendor over its perceived ties to the Chinese government, and issued strong new rules prohibiting carriers from using the firm's equipment within the core 5G network.
Huawei would be allowed to continue selling non-core equipment, such as the antennas that comprise the radio access network (RAN), but networks would be limited in how much they can use. The DCMS has established a 35 per cent limit, forcing carriers to diversify their footprint with components from other vendors, such as Samsung, Nokia, and Ericsson.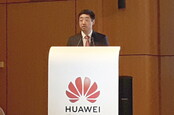 Not going Huawei just yet: UK ministers reportedly rethinking pledge to kick Chinese firm out of telco networks by 2023
READ MORE
Last month, it was reported that the Boris Johnson government had bowed to a plan that would see Huawei's existing 5G network equipment gradually retired by 2023. Rumours of a backtrack soon emerged, with ministers allegedly realising that such a move would be an expensive and logistically challenging endeavour that would delay progress in modernising the UK's cellular networks.
In a media briefing, vice president Victor Zhang emphasised Huawei's opposition to these measures, arguing that they benefit neither the UK nor – naturally – Huawei.
"[5G and fibre broadband] is critical for the UK, especially to recover the economy post-Brexit and post-COVID-19," he said.
"We have been in the UK for 20 years and have worked with customers like BT and Vodafone to deploy broadband from the earliest stage – 2G, 3G, 4G, and copper and fibre broadband – and now we are entering into the new stage with 5G and full-fibre broadband. This is critical for the UK to enable your economic recovery and lead the industrial revolution."
Zhang also expressed hopes that the UK will eventually reconsider (and reverse) its decision to limit Huawei's 5G involvement.
"We believe that the UK will continue to take an evidence-based approach to review what happened here and globally," he said. ®