This article is more than 1 year old
From off-prem to just off: IBM Cloud goes down planet-wide so hard even the status page didn't work
Widespread outage rolled for two-plus hours, incident report mentions 'broad network incident that is impacting many cloud services'
Updated IBM's cloud has gone down hard across the world.
We'd love to tell you just how hard the service has hit the dirt, but even the Big Blue status page is intermittently unavailable:

IBM Cloud status page ... Click to enlarge
Your humble hack has an IBM Cloud account, and when attempting to login in the hope that a customer-facing page could offer some information, he saw only the following error message: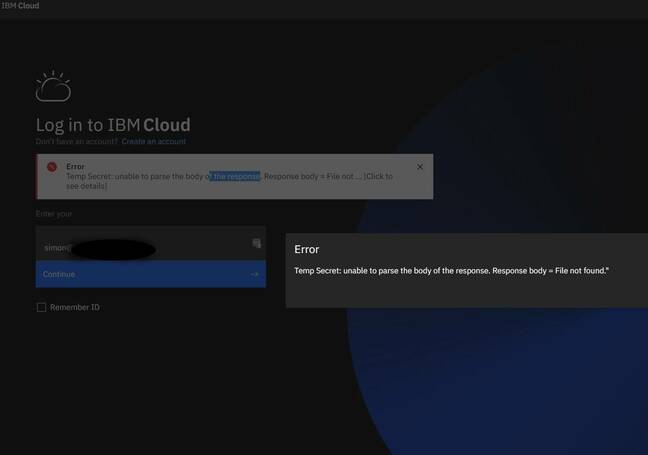 Click to enlarge
IBM's social feeds are silent on the outage at the time of writing.
One Australian IBM Cloud user told us that the outage has run for at least two hours, and means he is unable to deliver business services that customers depend on as they start their days. The breakdown is said to be global.
Clients are mad as hell because the blunder appears to have hit after business hours on the east coast of America, and IBM has not been responsive.
@IBMcloud we understand networking is a complicated thing and sometimes 'shit happens'. But in some parts of the world is really late, and there's people on duty after hours so... a short briefing message would be much appreciated, because right now this is what i'm visioning pic.twitter.com/8SreDv73sB

— mani (@spiralpain) June 9, 2020
All my customers impacted globally.. not sure how will I be able to convince them to host their applications on @ibmcloud again ? 40 Minutes.. hard down. .even their status page is intermittently unavailable...

— Constable सत्यान्वेशी !!!!! (@GoFindTheTruth) June 9, 2020
The Register has asked IBM to explain the outage, and we will update this story if and when more information becomes available. ®
Updated to add at 0020 UTC on June 10
The user we spoke to earlier tells us that their IBM-hosted services have come back to life. However, the IBM Cloud status page is still not working, and when this vulture tried to view it or to log on, this appeared...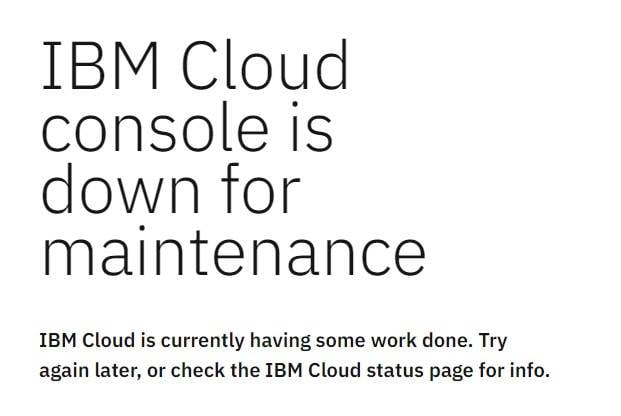 Your cloud is important to us. If you'd like to know more, press refresh for an hour or more.
Final update at 0140 UTC on June 10
The IBM Cloud's status page is live again, and users can log in once more.
The status page lists fifteen active events though offers almost no detail other than the admission that: "Technical teams are engaged and have identified a broad network incident that is impacting many cloud services." That information appears in a notification titled "Watson Platform users are unable to access console or applications in all regions."
IBM's explanation for the outage can be found here.