This article is more than 1 year old
City of Los Angeles sued for tracking rental scooter rides – that's the rideshare company's job says EFF and ACLU
Maybe they were just baffled to see people getting around without cars
The city of Los Angeles is the target of a lawsuit from civil rights groups angry over its tracking of rental scooter rides.
A complaint [PDF] filed by the American Civil Liberties Union and Electronic Frontier Foundation claims that the city and its department of transportation are violating the Fourth Amendment (unreasonable search and seizure) with their use of tracking software to log the locations and trip times of rental scooters.
At issue is Los Angeles' Mobility Data Specification (MDS), a portal which the City uses to log rental scooter activity on its streets, including scooter locations and trip times. Scooter providers are forced to hand over their trip data to the MDS app as a condition of operating within the city, rather than just paying to hand it over to the rental companies.
"The city is collecting this information, in violation of the Fourth Amendment, as an experiment," said EFF staff attorney Hannah Zhao.
"This is galling and improper, especially at a time when protests are erupting around the country and privacy protections for those exercising their free speech rights on the streets has taken on new importance."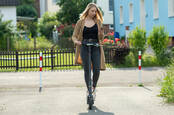 Eggheads have crunched the numbers and the results are in: It's not just your dignity you lose with e-scooters, life and limb are in peril, too
READ MORE
The suit notes that the use of MDS started with the noble goal of managing congestion and keeping the rental scooters from blocking sidewalks and otherwise interfering with foot and car traffic in LA. The idea was to be able to see where scooters could be piling up or posing hazards to drivers or pedestrians.
In practice, however, the civil rights groups argue that MDS has become an overly invasive system that illegally tracks citizens as they go about their day-to-day lives.
"Although MDS does not record the identity of the rider directly, the precision with which it captures riders' location information – often to within a few feet – likely allows riders to be identified," reads the complaint, filed with the Central California US District Court.
"Knowing that a particular trip began at an office building and ended in front of a home, for example, makes the difficulty of identifying the individual rider as simple as knowing their home and work addresses."
With such detailed information available to the city, the groups argue that MDS has become akin to warrantless surveillance and now poses a violation of civil rights. They cite named plaintiffs Justin Sanchez and Eric Alejo, who each took rental scooter rides in LA and had their trips logged.
"Plaintiffs ride electric scooters in the City of Los Angeles, using the vehicles to make trips from their homes to work, friends, businesses, and places of leisure," the complaint reads.
"LA DOT uses MDS to warrantlessly collect sensitive vehicle location data associated with each of plaintiffs' trips, in violation of their right to be free from unreasonable searches and seizures in contravention of the United States and California Constitutions."
The EFF and ACLU are asking the court to issue an injunction that prevents the city from collecting precise location data and requires the DOT to destroy any records of precise location data taken by MDS. It also seeks the usual monetary damages and attorney fees. The LA DOT says it has yet to receive a copy of the complaint.
"We cannot comment on pending litigation, which we also have not seen," a city spokesperson told The Register.
"The department requires reasonable information about shared vehicles operated by for-profit transportation technology companies and remains committed to ensuring the safety and accessibility of our streets."
It should be noted that the scooter companies themselves are not named as defendants in the suit, and it appears they want to stay on the sidelines for this one. El Reg reached out to four of the operators who serve LA (Uber Jump, Bird, Lyft, and Lime) but none had any comment to offer. ®