MacOS on Arm talk intensifies: Just weeks from now, Apple to serve up quarantini with Kalamata golive, reportedly
'People familiar' have been running their mouths, it seems
Apple is reportedly inching closer towards unveiling its first Arm-based Macs, with official confirmation expected to take place at this month's WWDC conference.
The report comes from Bloomberg's Mark Gurman, who quotes loquacious "people familiar with the plans".
As previously discussed, the effort to ditch Intel for Arm is codenamed Kalamata, and will see MacOS ported to run on similar processors to those used on the iPhone and iPad. As was the case when Apple announced it was abandoning IBM's PowerPC platform, the firm reportedly plans to give developers sufficient time to port over their applications.
For years, industry chatter has abounded that Apple was planning to cut ties with its long-time chipmaking ally. There was talk about Apple toying with Arm-powered Macs in 2018, late 2017, early 2017, and as far back as 2011.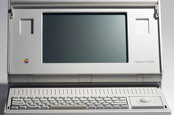 The forgotten, fat generation of Mac Portables
READ MORE
The volume has only gone up as Apple's own homegrown efforts have become increasingly sophisticated, with the chip on the 2020 iPad Pro outperforming the latest MacBook Air in both single and multi-core Geekbench 5.1 benchmarks.
A move to Arm-based chips might also afford Apple the opportunity to reduce the power consumption of its laptops, while adding new features, like a dedicated neural processor for AI tasks.
Although, such a move would also come with its own challenges, particularly with regard to ensuring backwards compatibility. In the interim, Apple would be forced to introduce an emulator that would ensue x86 binaries work on the new system, as it did when it left PowerPC in the mid-2000s.
In the short-to-medium term, Apple will have to continue developing Intel-based laptops, particularly for users performing CPU-intensive tasks like video editing. Apple may be forced to simultaneously maintain two ecosystems.
The biggest hurdle likely won't be technical, but one of communications. Apple will have to convince prospective buyers of Arm-based machines that they won't be considered second-class citizens. This is something Microsoft largely failed to accomplish with Windows RT**, its first foray into Windows on ARM*.
Any move to Arm will undoubtedly be welcome news to Apple's long-term chip manufacturing partner, TSMC, which is under heavy pressure from the US government to discontinue working with the current Trump Administration's bête noire: Huawei.
Apple is the world's biggest buyer of semiconductor products, according to analyst house Gartner. In third position is Huawei. ®
*excluding Windows CE, and the various mobile operating systems it released and subsequently abandoned over the years. I'll never forget you, Windows Mobile 6.1. ®
** In fairness, marketing wasn't the sole reason why Windows RT failed. It also suffered from slow devices, expensive hardware, and fewer apps than a Nokia 3310.