Singapore government boosts tech spend by 30% to pump post-pandemic economy
Contact-tracing and building logins hailed as COVID-crimpers, so gov wants more
---
The government of Singapore has decided spending more on technology is a fine way to help its economy recover from the COVID-19 pandemic, so has increased its tech spending by S$800m (US$575m) for FY 2020.
The island nation's total tech budget will therefore leap from $S2.7bn to $3.5bn, with the new cash going towards five initiatives:
Development of new tech tools to respond to COVID-19;
Development of citizen- and business-centric digital services;
Development of ICT systems on cloud;
Modernisation of government ICT infrastructure; and
Use of data analytics, artificial intelligence (AI) and sensors within the public sector.
Singapore's decided on this strategy because it feels tech-driven initiatives like the TraceTogether contact-tracing app and SafeEntry building login service, plus new work-from-home infrastructure adopted by government, helped it to cope with the pandemic. Even the Virus Vanguard superhero squad may have played a part!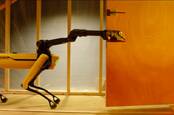 Singapore releases the robot hounds to enforce social distancing in parks
READ MORE
Now the government wants more of the same and will also use the extra cash to send work to small-and-medium-sized businesses, which will be able to bid for 80 percent of the spending across initiatives covering UX design, agile development, application development, data science and AI development.
"As we take on the new normal of COVID-19, we are re-engineering our back-end digital infrastructure which underpins the delivery of front-end government digital services to citizens, businesses and public officers," said Mr Kok Ping Soon, chief executive of Singapore's digital transformation agency GovTech. ®