This article is more than 1 year old
Remind us again, why work for AWS? Petty Amazon sues marketing veep after he defects to Google Cloud
Hyperscalers spar in non-compete, NDA spat
Amazon has kicked off a legal challenge to prevent a former AWS product marketing veep from taking a senior role at rival Google Cloud.
An injunction request filed with the King County court in the US state of Washington – and obtained by Geekwire – asks that Brian Hall, one-time AWS VP of product marketing, be barred from taking a top role within Google Cloud.
The AWS complaint argued Hall will otherwise wind up breaking a non-compete and confidentiality agreement he signed with Amazon when he joined them in 2018. In that paperwork, he promised not to join a competing organization for at least 18 months after leaving Amazon, and to keep AWS's confidential info to himself. Washington, unlike many other American states, still allows companies to force employees to adhere to non-compete clauses, by the way.
As such, Amazon is super upset the exec is joining Google Cloud so soon because, according to the filed paperwork:
Hall helped develop and knows the entire confidential Amazon cloud product roadmap for 2020-21 including the nature of the products; the customers to whom the products are or will be targeted; the messaging to customers regarding the products; competitive positioning; Amazon's investment in the products; pricing; and proposed launch dates.
According to Amazon, after being passed over for a promotion, Hall opted to move over to Google and forego the mandated year-and-a-half wait designed to keep him from using his skills and inside knowledge to the ad giant's advantage. Hall is an industry veteran and has spent decades in the IT industry including a long stint at Microsoft.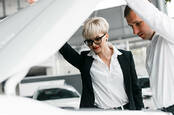 Oh good, the FTC has discovered acqui-hires... American watchdog to probe decade of Big Tech takeovers
READ MORE
Curiously, the court paperwork reveals some of AWS's inner workings, namely that it starts with a press release announcing a service, and works backwards from that to build the tech around it.
"At Amazon, product development follows a concept known as 'working backwards'," AWS argued in its filing last month.
"Amazon starts its development process with a draft press release addressing customer needs, the competitive landscape, and pricing, among others. The press release is created as a collaboration between Amazon's marketing and product teams. Throughout product development this collaborative process continues, and Amazon determines customer needs; the products it will develop to meet those needs; the investment in each product; the messaging to customers about each product; product pricing; and the timing and go-to-market plan for launching each product.
"As Amazon's Vice President of Product Marketing for Cloud, Hall was responsible for the marketing team's deep involvement in developing and implementing these plans."
Now, there is also Hall's side of the story. His legal team has a different interpretation of the non-compete clause, and what it was intended for.
In their official response, Hall's attorneys said the non-compete deal was never actually intended for him. Rather, they claimed, it was a piece of boilerplate language that was left in the contract AWS used for all of its employees.
They argue that, throughout his tenure at AWS, Hall and his superiors operated with the understanding that the non-compete clause was not actually part of his contract, and would not be enforced should he decide to leave the company. The legal eagles went on to note that both Amazon HR and AWS management, including AWS CEO Andy Jassy, congratulated him on the Google job and gave no indication they had any problem with his decision to go to a top competitor.
"It would be manifestly unjust not to hold Amazon to its initial position, which it maintained for nearly two years and has now abruptly repudiated," the filing stated. "For those reasons, Amazon is equitably estopped from obtaining the relief it seeks in the complaint."
Google declined to comment. Hall right now says his job title is VP in Purgatory at Google Cloud. ®