This article is more than 1 year old
As Uncle Sam flies spy drones over protest-packed cities, Homeland Security asks the public if that's a good idea
Because nothing says freedom like a Predator circling overhead
Following weeks of heated protests in American cities – and criticism of law enforcement's use of force, surveillance, and drone aircraft in the skies above – the US government has belatedly asked the public what it thinks.
The US Department of Homeland Security wants your comments on the use of drones by police and other first responders by July 9. Whether it'll take them seriously is another matter.
"The primary purpose of this survey is to understand the public perception of and identify concerns with current and potential uses of UAS technology by first responders," the department said in its notice.
"The survey will ask respondents to report their demographic characteristics, their knowledge of unmanned aircraft systems (UAS), their knowledge of the use of UAS by first responders, their overall trust in the use of new technologies by the government and first responders, their general attitudes about such use, and their opinions about the use of drones by first responders for specific applications like search-and-rescue."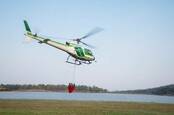 Drone bloke cuffed after gizmo stops firemen tackling forest inferno
READ MORE
Additionally, Homeland Security said it will also be using the survey to pitch citizens on a number of messages the agency has thought up to "deliver information to the public about first responder drone applications."
"First responder organizations have used UAS to search for lost children, identify high risk areas in burning structures, facilitate relief operations following hurricanes, reduce risk and exposure for law enforcement officers in active-shooter events, and many other use cases," the notice reads.
"The primary purpose of this survey is to understand the public perception of and identify concerns with current and potential uses of UAS technology by first responders."
While the department said the planned comment period and survey will be aimed at drone use by all first responder agencies, it's not hard to figure out that the overwhelming majority of the discussion, and public concern, will center on the use of unmanned aircraft by law enforcement agencies, including the Feds and cops.
Look to the skies
Over the past few weeks, protests and marches have been held, mostly peacefully, in nearly every major city in America against systemic racism, police brutality, and the disproportional targeting of people of color. In response, officers flew off the handle and attacked citizens exercising their right to protest, and shot at journalists covering the unrest. Now a number of police departments face defunding and disbanding amid stinging criticism.
And in the skies above the crowds, collecting intelligence and other information, were drones deployed by the federal government. The US Customs and Border Patrol, for instance, confirmed it had lent one of its Predator drones to fly at 20,000 feet over and monitor protests in Minneapolis to "provide live video to aid in situational awareness at the request of our federal law enforcement partners."
NOW: @CBP Predator Drone #CPB104 circling over Minneapolis at 20K feet. Took off from Grand Forks Air Force Base. #Minneapolisprotests #surveillance #planespotting pic.twitter.com/hVYF4GXe1Y

— Jason Paladino (@jason_paladino) May 29, 2020
While the border plod said the drone flight was requested by another agency for "operational awareness" purposes, and not intended to threaten or intimidate protesters, US House reps have called for an investigation into the flight.
"This Administration has undermined the First Amendment freedoms of Americans of all races who are rightfully protesting George Floyd's killing," said the members on the House Committee on Oversight and Reform.
"The deployment of drones and officers to surveil protests is a gross abuse of authority and is particularly chilling when used against Americans who are protesting law enforcement brutality." ®