This article is more than 1 year old
Huawei's latest smartphone for the UK market costs £1,299. And yes, that's without Google apps
Appy with that? Maybe not
UK punters with an aversion to Google and a spare £1,299 burning a hole in their pockets will soon be able to get their hands on the Huawei P40 Pro+.
The P40 Pro+ expands on the already formidable P40 Pro. Most specs remain the same, with the display and Kirin 990 5G platform unchanged. However, base storage sees a bump from 256GB to 512GB. Meanwhile, the chassis is constructed out of a kiln-forged ceramic material designed to withstand chips and scratches.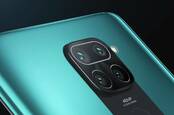 Xiaomi has such Huawei with words: Our two new phones have 'easy access' to Google apps... unlike that other guy
READ MORE
The biggest change can be found on the camera array. The P40 Pro+ comes with a penta-sensor setup. The primary camera uses the same 50MP RYYB setup on the P40 Pro. However, the inclusion of an 8MP 3x telephoto zoom lens with OIS should improve long-range performance.
Like the Samsung Galaxy S20 Ultra 5G, this effort supports 100x digital zoom — although at such ranges, quality will inevitably be grainy. That said, the camera upgrade should improve results at more reasonable distances, like 10x and 20x.
We've already reviewed the P40 Pro, and were suitably impressed with the camera performance. Indeed, we briefly found ourselves using it for product photography, with the plucky phone replacing this correspondent's usual Fujifilm mirrorless. It was arguably the best phone camera I've ever used, and it'll be extremely interesting to see how the Pro+ flavour improves on these already foundations.
Of course, there's a caveat. The P40 Pro+ lacks the mainstream Google Play store, with users pushed towards Huawei's own app bazaar: the Huawei AppGallery. There are workarounds — like downloading APKs from the internet, or porting apps from existing devices with Huawei's Phone Clone tool — but they aren't nearly as graceful (or secure) as using the official app portal.
And then there's the price. With analysts expecting the premium end of the market to take a beating this year, it's entirely plausible the P40 Pro+ will be too expensive for most. Indeed, this device costs the same as the 256GB iPhone 11 Pro Max.
Huawei's hoping to sweeten the pot by throwing in a 40W SuperCharge wireless charging stand, as well as a Huawei Watch GT2. Still, even with these add-ons, the P40 Pro+ feels frightfully pricey. ®