This article is more than 1 year old
Intel outside: Chip king Keller quits x86 giant immediately 'for personal reasons'
'We wish him and his family all the best for the future' says US mega-corp
Jim Keller, Intel's senior veep of silicon engineering, has quit the microprocessor maker effective immediately.
Keller, not so much an industry veteran but semiconductor royalty, left due to "personal reasons," Chipzilla confirmed in an announcement today. He will stay on hand as a consultant for the next six months, we note.
"Today, Intel announced that Jim Keller has resigned effective June 11, 2020, due to personal reasons," the CPU manufacturer said. "Intel appreciates Mr Keller's work over the past two years helping them continue advancing Intel's product leadership and they wish him and his family all the best for the future."
Among other places, Keller previously worked for Apple, drafting the A4 and A5 processors in iThings, was briefly at Tesla, and had stints at AMD co-designing the x86-64 instruction set as well as the AMD K7 and K8 microarchitectures, and later the K12 and Zen microarchitectures. He joined Intel in 2018. Given he jumps between corporations every few years, this latest departure shouldn't be too much of a surprise.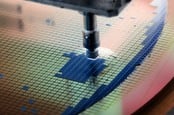 US senators propose $22bn fund for new fabs on American soil because making stuff is better than designing stuff
READ MORE
At Intel, Keller had a fairly wide brief, from planning out platforms to improving manufacturing processes. The x86 goliath just emitted its Lakefield processors with 10nm Sunny Cove and Tremont cores, as well as the usual round of speculative-execution security patches.
We could bang on about Intel's 10 and 7nm process nodes finally looking viable, and the latest families of processor leaving the fabs, and perhaps Keller felt his work within Intel was done. But seeing as he left for "personal reasons" it could be he simply had something more pressing on his mind or somewhere else better to be.
Last month, Fortune ran a hagiography on the industry guru with the well-aged headline: "Why Intel is betting its chips on microprocessor mastermind Jim Keller." Let's hope he saved his work before hitting Alt-F4 for the last time at his workstation.
Intel has taken the opportunity to move a few executives around: Sundari Mitra will now oversee an intellectual-property engineering team after leading the Configurable Intellectual Property and Chassis Group; Gene Scuteri will take over the Xeon and Networking Engineering Group; Daaman Hejmadi will run the Client Engineering Group focused on system-on-chips for laptops, PCs and the like; and Navid Shahriari will continue to lead the Manufacturing and Product Engineering Group.
All four will report to Dr Murthy Renduchintala, who runs Chipzilla's Technology, Systems Architecture and Client Group. ®