This article is more than 1 year old
Count how many times the Feds checked Chinese telcos in America weren't spying. Only one hand needed
Meanwhile, Zoom axes account used to mark the Tiananmen Square massacre
US government agencies were taken to task in a Senate report this week over decades of failing to keep tabs on the American operations of Chinese telcos.
The US Senate Committee on Homeland Security and Government Affairs singled out the Department of Justice (DoJ), the Federal Communications Commission (FCC), and Department of Homeland Security (DHS), in neglecting to oversee the Chinese companies and make sure they were not using their services to spy on Americans.
"Three Chinese state-owned carriers have been operating in the United States since the early 2000s, but only in recent years have the FCC, DOJ, and DHS focused on potential risks associated with these carriers," the report [PDF] stated.
"DOJ and DHS did enter into security agreements with two of the Chinese state-owned carriers prior to 2010, but they conducted only two site visits to each carrier since that time (or four total)."
None of the three agencies responded to a request for comment on the report.
Speaking of China, Zoom closed the paid-for account of US-based Chinese activists after they held an international Zoom meeting marking the 31st anniversary of the Tiananmen Square massacre. The vid-conferencing biz said it was following Beijing's laws, which forbid discussion on its national networks of the June 4 killings, and has reinstated the account.
"When a meeting is held across different countries, the participants within those countries are required to comply with their respective local laws," Zoom told Axios in a statement. "We aim to limit the actions we take to those necessary to comply with local law and continuously review and improve our process on these matters."
The report noted that serious scrutiny of Chinese-owned telecommunications companies has only recently begun despite many of them selling services in the US as far back as 1999, when the Chinese government began to encourage international expansion of its home-grown telcos. In other words, China's presence in America's telecommunications infrastructure is not new, and Uncle Sam is suddenly on a mission to weed out Chinese operators that have been plugged into US networks for, er, decades.
Over that time period, the committee said, businesses with close ties to Beijing may have had ample opportunity to collect intel on citizens, government agencies, and organizations without much in the way of oversight.
While the Senate committee noted the FCC's recent efforts to boot China Mobile from the US market over national security and legal concerns, it pointed out other Chinese telecoms giants with similar ties to the Chinese government were already well-established in the market.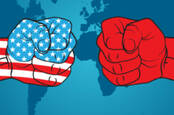 US threatens to turf out four Chinese telcos amid concerns over national security... and COVID-19, doctors, schools, jobs, communists, etc
READ MORE
"The US subsidiaries of the two other big three carriers—China Telecom and China Unicom—along with a smaller state-affiliated provider ComNet (USA) LLC (ComNet) each received authorization to provide international telecommunications services in or prior to 2002 and have been operating ever since," the report noted.
"During this time, these Chinese carriers have built relationships with major US carriers and established points of presence across the United States. Further, China Telecom's US subsidiary, China Telecom Americas, provides services to Chinese government facilities in the United States."
The DOJ and DHS, meanwhile, were taken to task over Team Telecom, a joint project within the Foreign Investment Review Section of the Justice Department charged with keeping an eye on international telcos operating in the US, with support from the Department of Defense and others.
The committee charged that Team Telecom was routinely understaffed and ill-equipped to perform their duties. This resulted in the office becoming what the committee termed a "black hole," that took seven years just to review China Mobile's application to operate as US subsidiary. Team Telecom was given a makeover in April.
"Further, the agencies did not dedicate sufficient resources to ensure Team Telecom conducted oversight in an efficient and effective manner," the report stated. "The components of DHS and DOJ responsible for Team Telecom together historically tasked three employees with reviewing applications and monitoring compliance with security agreements."
The report recommended that both Congress and the White House step in to make sure foreign telcos face stricter vetting and closer scrutiny with their US operations.
"Especially when dealing with state-owned telecommunications carriers, greater controls are needed," the committee concluded, "and the Administration and Congress must work together to ensure sufficient safeguards and oversight mechanisms are in place." ®