Spending on data centre hardware and software dipped in Q1 as enterprises tightened their belts - the reasons for which are clear. As for the purveyors of public cloud, no such concerns existed.
Figures from Synergy Research Group show that customer spending shrank globally by 2 per cent year-on-year to $35.8bn, with the non-cloud segment led by Microsoft, Dell, HPE, Cisco and VMware down 4 per cent to $26.13bn.
In a statement that will surprise few, John Dinsdale, chief analyst at the research house, said: "Many enterprise have been negatively impacted by the pandemic resulting in increased pressure on capital budgets and more impetus on shifting workloads to public cloud providers".
Kit including servers, storage and networking accounted for 73 per cent of all spending (non-cloud and cloud), and operating systems, virtualisation, cloud management and network security software comprised the remainder.
According to Synergy stats, the cash splashed by public cloud vendors on their infrastructure went up by 3 per cent to $9.66bn year-on-year in Q1. The biggest recipients of these dollars were - in order - the big contract manufacturers in China and elsewhere in the Fast East, Dell, Microsoft, Inspur and Cisco.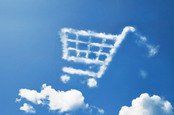 $31bn spent on cloudy infrastructure in Q1 on back of employees' mass migration to home working
READ MORE
"Cloud services revenues continue to grow by almost 40 per cent per year," said Dinsdale, "enterprise SaaS revenues are growing by almost 25 per cent, search/ social networking revenues are growing by over 15 per cent, and e-commerce revenue are growing by over 20 per cent, all of which re helping to drive growth and increased spending in public cloud infrastructure."
Analysts at IDC this week said Original Design Manufacturers that produce storage kit for the biggest builders of public cloud - the hyperscalers - sold $4.9bn worth equipment worldwide in Q1, up 6.9 per cent year-on-year. By contrast, enterprise external OEM storage systems spending declined 8.2 per cent to $6.5bn.
In the OEM segment, a bunch of vendors reported double digit declines, with NetApp down by a fifth to $715.7m; HPE down 17 per cent to $646.2m; and market leader Dell falling 8.2 per cent to $2.162bn. IBM, Pure and Huawei all grew by 3.8, 7.7 and 17.7 per cent respectively.
IDC refused to discuss the individual vendor performances or provide estimates on how the market will shape up for ODMs versus OEMs in 2020.
In a canned statement, IDC's Sebastian Lagana talked of OEMs facing "stiff headwinds" in the quarter due to the virus and contract manufacturers in the ODM community took "advantage of increasing spend from hyperscalers".
He added that spending by public cloud vendors will run on "as many enterprise continue to default to work from home, individuals and employees leverage cloud-based collaboration tools, and content delivery network ensure support for elevated levels of steaming enterainment and consumption requirements." ®