This article is more than 1 year old
Facebook's cool with sharing the President's nonsense on its mega-platform – but don't you dare mention 'unionize' in its Workplace app
Zuck pauses plan to roll out topic moderation tools for its FB-for-biz
Facebook this week temporarily halted plans to roll out tools that would have allowed its Workplace customers to censor touchy topics, following a reported internal staff revolt.
Workplace looks and operates like self-contained private instances of Facebook – with familiar features such as groups, instant messaging, and news feeds – for businesses to use to manage their employees. The paid-for service has been deployed by tens of thousands of organizations, from Starbucks and Walmart to the Royal Bank of Scotland.
On Wednesday, according to The Intercept, execs revealed to Facebook staff a new addition to the software: tools for employers to filter out undesirable topics and words from their Workplace news feeds. One example given was "unionize." Facebook techies revolted, we're told.
The engineers were mostly upset at the notion Facebook was helping companies shut down labor-organizing efforts. Although employers, in America at least, can ban workers from using company email and messaging systems to organize a union, folks ultimately still have the right to organize a union in their workplace.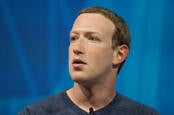 You know Facebook has an image problem when major nonprofits start turning down donations over political lies
READ MORE
We're told Facebook bosses took down the internal presentation of the upcoming content-control feature, and promised to pause its release for a rethink, while explaining the filter was supposed to "give everyone a voice, while maintaining a respectful work environment" within Workplaces.
"While these kinds of content moderation tools are useful for companies, this example was poorly chosen and should never have been used," a Facebook spokesperson said earlier today of the "unionize" suggestion.
"The feature was only in early development and we've pulled any plans to roll it out while we think through next steps."
Meanwhile, Facebook continues to run the US President's rule-breaking posts unchallenged on its enormo-platform. No one wants an overly powerful organization like Facebook editing or interfering with anyone's free speech, let alone someone elected into high office, but even Twitter managed to find a solution – providing context alongside tweets that had huge reach. ®