This article is more than 1 year old
Bloke rolls up to KFC drive-thru riding horse-drawn cart only to be told: Neigh
They were served at Maccie Ds, which will enrage mobility scooter punter who was turned away – twice!
Wheezing Brits' neck rolls up and down the country quivered with delight this week as American fast-food chains were among the first businesses to emerge from the UK's coronavirus lockdown – but future coronary patients are only to be served from the safety of their cars.
If this hack's undisclosed location in the southeast of England is anything to go by, the reaction has bordered on hysteria. One McDonald's drive-thru has turned a whole corner of town into a no-go area if you actually hope to get home, with hour-long queues snaking down the road and around the roundabout. People must really need a Big Mac.
A similar phenomenon at KFC has also blocked this writer from parking at the adjacent Tesco Express to purchase essential goods, necessitating a longer and arguably more dangerous trip to a larger supermarket for milk and cat food.
One wonders if these grease fiends have ever heard of Deliveroo or Uber Eats, which will merrily put a poor driver in the firing line to collect your grub for you.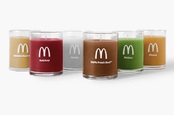 Come on baby light me on fire: McDonald's to sell 'Quarter Pounder' scented candles
READ MORE
Anyway, a result of drive-thrus opening has inevitably been that folk will turn up in, let's say, "creative" modes of transport – like this chap in the northern border city of Carlisle who ordered some of the Colonel's finest ahead of time, but was denied service on arrival. Because he was travelling by horse and cart.
'I couldn't read what it said'
Local tabloid The News & Star reported in typical overwrought style that Ian Bell was "devastated" to be turned away, having waited patiently in the queue of cars with his nag Jon Jon.
Ian, from the nearby town of Silloth, told the paper: "Jon Jon is my world, he is an amazing horse and he is as quiet as a lamb. We come to Carlisle every night to help with his training.
"We go to McDonald's and have never had a problem, I just can't believe the way we were treated.
"When we got to the hatch the cashier just said my manager said I can't serve you and I had to leave the queue.
"I was humiliated, there are no signs up saying I can't go through and you're not able to go into the store.
"I don't understand what I did wrong."
Interestingly, Ian said someone came out to him and handed him "something written on some paper," to which he admitted: "I'm dyslexic and I couldn't read what it said."
He added: "While I was in the car park I asked a woman to read the signs to me. From what she told me and from what I can see there is nothing saying I'm not able to go through with Jon Jon and the cart."
But all's well that ends well – Ian and Jon Jon went to McDonald's instead, where they were again served with no issues.
'It's got lights, indicators, it's fully taxed and insured!'
And this will probably burst an artery of 66-year-old David Smith, from Bridlington on the East Riding of Yorkshire coast, who was first in line on opening day of McDonald's drive-thru, but was turned away because he was on a mobility scooter.
He raged at The Scarborough News: "They told me it's not a vehicle. It's got lights, indicators, it's fully taxed and insured!"
The Royal Navy veteran, who cannot drive a car for six months following a knee operation, frequented the patty-pusher before the fires of industry stopped burning and eagerly arrived early to beat the crowds.
The customer next in line bought his order for him, but he was incensed to later discover that road-worthy mobility scooters are indeed perfectly acceptable vehicles in which to collect McDonald's drive-thru orders. Note, however, that horse-drawn carts are not.
When David tried to visit the next day, he was turned away again by a security guard. Like we said, people really want their Big Macs.
McDonald's told the paper: "We apologise to this customer for the delay caused in using our Drive Thru.
"For everyone's safety, our restaurant team were checking that mobility scooters were permitted in the Drive Thru lane and, due to its road-going nature, in this case it was.
"Unfortunately, during this short delay the customer left, however we hope to welcome him back in the near future."
The Register asked KFC why Ian and Jon Jon were served at the Golden Arches, but could not be plied with Sanders' secret sauce in Carlisle. A spokesbeing responded: "Hold your horses, Carlisle. We're not looking to stirrup trouble and we're sorry for Ian and Jon Jon's experience – but the safety of our guests is really important, so we can't allow horse-drawn vehicles in our drive-thrus."
There you have it, straight from the horse's mouth. Naturally, we also asked McDonald's why Ian and Jon Jon got away with it on their watch. ®