This article is more than 1 year old
Well, we tried being a non-profit... OpenAI is now open as in open for business with GPT-3 cloud language model API
This tech can't be all that dangerous if it's now sold as a service
Updated OpenAI has launched its first commercial service to generate income as companies generate, analyze, and process text using its machine-learning technology. This business of training powerful neural networks isn't cheap, you know?
The service, described as a "general-purpose, 'text in, text out' interface" accessible via an API from Microsoft's Azure cloud platform, was announced on Thursday. The OpenAI API is only available as a beta to companies and academics interested in experimenting with it, for now.
OpenAI is giving away two months free access to the service to test the waters, while it decides how much to charge customers. The API performs a variety of tasks, such as language translation, question and answering, or text generation and summarisation.
It's the first step the San-Francisco-based research lab has taken to make money off its AI models. OpenAI was founded as a non-profit organisation in 2015, and set its sights on achieving artificial general intelligence.
The pursuit has proven too costly, however, and it rebranded itself as a for-profit outfit in 2019. The amount of compute needed to train and run massive AI models containing millions and billions of parameters is non-trivial, and there's only so long you survive on donations before cash reserves dry up.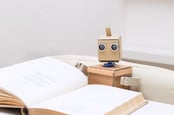 Thought GPT-2 was powerful? OpenAI teases GPT-3. Meanwhile, Microsoft dumps human journos for robots
READ MORE
Now, it's touting an API that runs multiple language models based on the GPT-3 architecture that was announced earlier this month, effectively turning its artificial intelligence into a metered supply.
"Given any text prompt, the API will return a text completion, attempting to match the pattern you gave it," OpenAI said. "You can 'program' it by showing it just a few examples of what you'd like it to do; its success generally varies depending on how complex the task is."
Several companies like Reddit, Casetext, and Sapling are using the beta service to perform tasks like searching through documents and automating customer service chats.
GPT-3 is an extremely large model – it contains 175 billion parameters – and is trained on multiple datasets. OpenAI said its software interface gives developers a chance to use some of its models based on GPT-3's architecture without having to train and deploy the mega-brain themselves. A study by Lambda Labs, a company that builds AI servers and workstations, estimated it'd cost more than $4.6m to train the monster network on its systems.
We note there appears to be a collection of GPT-3-like models behind the OpenAI API that have been customized to perform specific tasks, rather than just one big, generic GPT-3 system. The Register has asked OpenAI for more details.
A paper [PDF] describing GPT-3 said the model, as a single entity, was able to perform multiple tasks, some required little or even no specialized training, though its performance was not as good as other machine-learning models that had been fine-tuned for a specific job.
Initially, OpenAI made a big song and dance over its text generation models being misused. Its predecessor GPT-2 was considered too dangerous to release back in February 2019 over fears that it could be weaponized to churn out fake news or spam.
Months later, the research lab declared it wasn't so nefarious after all and published the full version. The tech clearly can't be that bad if OpenAI is now trying to sell it, eh?
Access to the API will be revoked, we note, if you spin it up for applications that are considered harmful. "We will terminate API access for use-cases that cause physical or mental harm to people," the biz said, "including but not limited to harassment, intentional deception, radicalization, astroturfing, or spam; as we gain more experience operating the API in practice we expect to expand and refine these categories." ®
Updated to add
OpenAI hasn't got back to us on how its API backend is structured nor how many models are in use.
Meanwhile, Nvidia's director of AI research Prof Anima Anandkumar has reminded us of GPT-2's racial and gender bias having been trained on web content shared via Reddit. Fearing GPT-3 is no better, she tweeted: "I am disturbed to see this [the GPT-3 API] released with no accountability on bias."