Taiwan's government has explicitly stated it plans to boost the nation's display technology industry to take advantage of 2020's twin crises: US-China trade tensions and the COVID-19 pandemic.
Premier Su Tseng-chang on Thursday pointed out that displays already account for eight percent of Taiwan's GDP and employs 150,000 locals.
Citing "the reordering of global supply chains caused by the U.S.-China trade war and the coronavirus pandemic", Premier Su outlined the development of a new a five-year action plan to advance innovation in Taiwan's display technology sector. The plan will also pursue new applications for displays.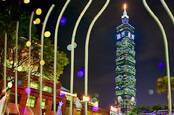 Taiwan trumpets Apple planting next-gen monitor plant in local science park
READ MORE
The nation's new plan will funnel just under $600m to efforts that explore how Taiwan can use its display expertise to find new business in retail, transport, health care and entertainment applications, "with the aims of developing advanced display technologies and application systems as well as promoting cooperation between the panel display and semiconductor industries."
The hoped-for outcome is for a local industry worth $84bn a year by 2030, up from the current $45bn.
In recent days Singapore and Malaysia have each outlined plans to boost government tech spending to accelerate the development of digital government initiatives, but neither effort is as bold as Taiwan's effort to use geopolitics as a lever for industry policy. ®
Similar topics