This article is more than 1 year old
Psst. Hey kid, you want $50 in AWS credit? Great, you just need to fill out this form and sit through these web lectures
Virtual summit sweetener unlikely to mean much to serious customers
Amazon Web Services is offering attendees of its virtual summit for Europe, Middle East and Africa a $50 credit for turning up, watching sessions and submitting feedback.
The problem AWS is addressing is a feature of free virtual events: getting people to sign up is a start, but with no incentive for actually attending, and no penalty for not doing so, there will be plenty of no-shows. Another issue is that at the first sign of technical issues – such as those which afflicted SAP's SapphireNow – or simply when confronted with the reality of relentless vendor marketing, attendees may bail out early and not return.
Attendee Mark Wilson reported the AWS solution on Twitter: $25 of AWS credits if you complete an event feedback form, and another $25 if you sit through five sessions "during the live day." One hopes that session attendance is merely a matter of keeping a browser window open rather than bringing the full weight of AWS AI technology to identify whether people are really paying attention.
Details of the offer are also given in the event FAQ. Most cloud providers offer starter credits for new accounts, but we presume these can also be applied to existing accounts, making them more useful.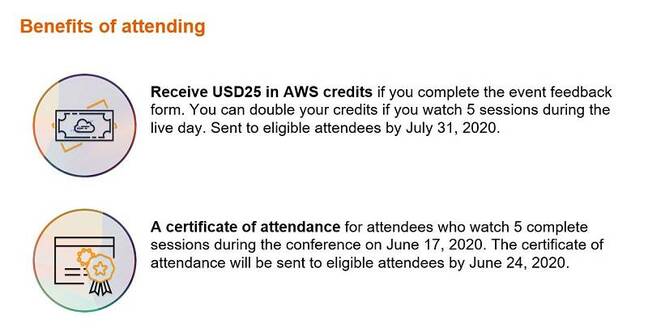 $50 credit for showing up at a virtual summit
You also get a certificate of attendance, which is a bit of a puzzle as we are curious about its value.
Swag at events, even free ones, is nothing new but normally require at least the effort of hauling yourself around the country, perhaps suffering the torments of hard-to-reach London spots like the ExCel, or the isolation of Birmingham's National Exhibition Centre, in return for your free T-shirt or stress ball. The event organiser or exhibition vendor then gets to add you to its list of targets for future sales pitches.
The virtual scenario is a bit different, with the required commitment from the attendee almost zero. $50 credit may help to boost attendance, but there are a few risks. One is that the most valuable attendees (from the vendor perspective) are enterprise decision-makers for whom a trivial credit is meaningless. Those who will value it most highly are the hobbyists or tiny businesses who are least likely to become serious customers – though there is always the possibility that once sucked in they might accidentally run up a $60,000 bill "for a test task I worked on at my job 3 months ago."
Offering incentives for feedback is also a guarantee that more of your feedback will be of low quality. In truth, most online feedback is low quality anyway. The way to get good feedback is to call someone and ask them, "what did you think of the session?" The way to get bad feedback is to present multiple choices asking you to rate the speaker's knowledge or the value of the content in blobs from one to five. Unfortunately, the bad feedback is more amenable to statistical processing so it is used everywhere – though we give a shout-out to InfoQ who worked this one out years ago and asks attendees at its developer-focused QCon events to rate sessions simply green, amber or red. Everyone complies and it works.
Are there better ways to promote virtual conference attendance? Yes. Use reliable technology, tone down the marketing, present excellent technical content, and have real interactivity rather than lifeless pre-recorded videos. The fact that AWS is also relying on virtual swag does not mean that the content will not be strong – but if it is, and considering the downsides, why bother? ®