This article is more than 1 year old
Ex-eBay security execs among six charged with harassing, threatening bloggers who dared criticize web tat souk
Internal probe went all the way to the former CEO, CCO after 'smut, fake pig's head, more sent to couple'
Six former eBay staffers, including two executives, were hit this week with criminal charges for allegedly serially harassing two bloggers who were critical of the internet tat bazaar.
According to prosecutors in the US, director of safety and security James Baugh, 45, of San Jose, California; director of global resiliency David Harville, 48, of New York City; manager of global intelligence Stephanie Stockwell, 26, of Redwood City, California; and eBay Global Intelligence Center staffers Stephanie Popp, 32, Veronica Zea, 26, and Brian Gilbert, 51, all of San Jose, conspired to commit cyber-stalking and tamper with witnesses.
Gilbert, we note, is a former Santa Clara, California, police captain, who went into the private sector. Baugh and Harville were arrested by the FBI earlier today. All six were or are due to appear in federal district courts in New York and Boston.
It is alleged the six staffers engaged in a campaign last August to harass and silence a wife-and-husband couple whose newsletter and blog scrutinized eBay and other online marketplaces.
The pair – she edited, he acted as publisher – were sent all manner of intimidating stuff, from a book on "surviving the loss of a spouse" and pornography, to live cockroaches, a preserved fetal pig, a funeral wreath, and a gross Halloween mask of a fake bloody pig's head, it is claimed.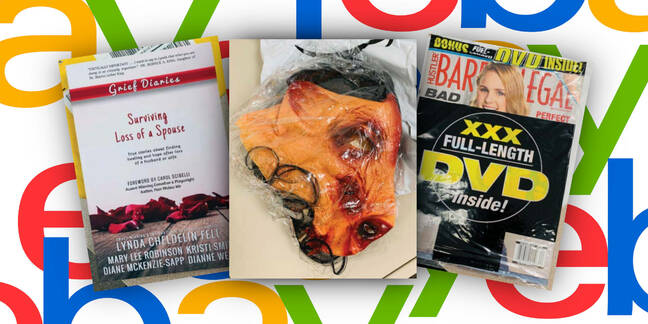 A montage of the book Grief Diaries: Surviving the Loss of a Spouse, the Halloween pig mask, and a porno mag allegedly sent to the couple by eBay staff
Click to enlarge ... Source images from the FBI
The alleged victims, who were said to have been bombarded by sickening messages, were unnamed by prosecutors, though court documents indirectly identify the couple's website as ecommercebytes.com. It is claimed ads were also posted on Craigslist falsely stating the couple's home was open for partying, threesomes, and BDSM activities.
"On August 10, 2019, Victim 2 received an email reporting that a 'Preserved Fetal Pig' had been ordered online to be sent to the victims' house," claimed FBI Special Agent Mark Wilson in a lengthy affidavit [PDF] submitted to the district courts.
"At approximately 4:00 p.m. that day, an Amazon.com package addressed to Victim 1 was delivered to the victims' home. The package contained a Halloween mask featuring a bloody pig face. At 4:14 p.m., Victim 1 received a message ... asking 'DO I HAVE UR ATTENTION NOW????'"
Department of Justice prosecutors summarized the case thus:
The victims of the cyberstalking campaign were a Natick, Massachusetts, couple who are the editor and publisher of an online newsletter that covers e-commerce companies, including eBay. Members of the executive leadership team at eBay followed the newsletter's posts, often taking issue with its content and the anonymous comments underneath the editor's stories.
It is alleged that in August 2019, after the newsletter published an article about litigation involving eBay, two members of eBay's executive leadership team sent or forwarded text messages suggesting that it was time to "take down" the newsletter's editor.
In response, Baugh, Harville, Popp, Gilbert, Zea, Stockwell, and others allegedly executed a three-part harassment campaign.
On Monday, the cyber-yard-sale goliath said it wants nothing more to do with the accused, having fired all those involved in the alleged cyberbullying.
And, we're told, its internal probe into the matter went all the way to the top, finding that although then-CEO Devin Wenig made "inappropriate" remarks about the bloggers, he did not authorize nor know about the alleged harassment. The web goliath's chief communications officer was fired in September 2019 as a result of the investigation.
Reading between the lines, it appears the then-CEO's comments to his chief comms officer may have been a catalyst for the alleged subsequent cyberstalking.
This is evident from Special Agent Wilson's report to the courts, which at one point, while referring to two unnamed top leadership executives, claimed:
On April 10, 2019, for example, Executive 2 texted Executive 1, "We are going to crush this lady," sending along a link to the newsletter's coverage that day of Executive 1's compensation. On April 20, 2019, discussing the Wall Street Journal's coverage of Executive 1, Executive 1 texted to Executive 2, "Fuck them. The journal is next on the list after [Victim 1]."
On August 1, 2019 ... at 2:19 p.m., Executive 1 texted Executive 2: "[Victim 1] is out with a hot piece on the litigation. If you are ever going to take her down..now is the time." Executive 2 responded shortly afterward by text message: "On it." A series of text messages followed between Executive 2 and Baugh, beginning with Executive 1's suggestion to Executive 2 that "we … take her down."
Wenig resigned from eBay in late September.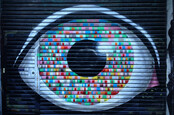 eBay users spot the online auction house port-scanning their PCs. Um... is that OK?
READ MORE
"eBay was notified by law enforcement in August 2019 of suspicious actions by its security personnel toward a blogger, who writes about the company, and her husband," eBay told El Reg in a statement today.
"eBay immediately launched a comprehensive investigation, which was conducted with the assistance of outside legal counsel, Morgan, Lewis & Bockius LLP.
"As a result of the investigation, eBay terminated all involved employees, including the company's former Chief Communications Officer, in September 2019.
"eBay took these allegations very seriously from the outset. Upon learning of them, eBay moved quickly to investigate thoroughly and take appropriate action. The company cooperated fully and extensively with law enforcement authorities throughout the process. eBay does not tolerate this kind of behavior.
"eBay apologizes to the affected individuals and is sorry that they were subjected to this. eBay holds its employees to high standards of conduct and ethics and will continue to take appropriate action to ensure these standards are followed.
"The internal investigation found that, while Mr Wenig's communications were inappropriate, there was no evidence that he knew in advance about or authorized the actions that were later directed toward the blogger and her husband." ®
Updated to add on June 17
For the avoidance of doubt, eBay says Executive 1 named above is Devin Wenig and Executive 2 is then-chief communications officer Steve Wymer. Neither have been accused or charged with any crime.