HPE pushes white label kit for 5G edge computing to tempt all the telcos still crying over WhatsApp and pals
Forget voice calls and SMSes - time to flog edge services and apps
Hewlett Packard Enterprise is trying to grab the attention of telcos that in turn need to make a buck from their pricey 5G infrastructure by selling low-latency edge computing applications to biz customers.
At its core, HPE's Edge Orchestrator is a SaaS platform that acts as an app gallery, allowing enterprise customers to install and access software from a pre-selected catalogue. Telcos can license it, white-label it with their own corporate branding, and install it on iron strategically located within their network — or on the customer's own premises.
With this effort, the name of the game is monetisation. After all, 5G isn't cheap for telcos to deploy, with huge upfront costs for spectrum, hardware, and replacing said hardware when it gets torched by one of the Alex Jones brigade. Consumers are unlikely to be the golden cash cow hoped for by carriers, with most UK networks charging the same for 5G plans as they do with existing 4G packages.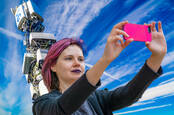 Core blimey, that's edgy: HPE makes a play for next-gen 5G market
READ MORE
Enterprise customers, however, might offer a great deal more promise for beleaguered networks, with edge computing in particular presenting a potential revenue stream.
HPE touts Edge Orchestrator as being able to power analytics and automation tasks, where immediacy is key. It also raises the possibility of lower bandwidth costs, paired with the ability to limit data to a specific jurisdiction. It's conceivable, for example, that some nations that impose strict laws on cross-border data transfers, also lack affordable domestic public cloud infrastructure.
But crucially, HPE reckons Edge Orchestrator as a tool to help telcos compete with the incumbent public cloud providers, like Amazon, Microsoft, and Google.
"Today, telcos have significant enterprise business, but they are often seen as little more than bandwidth providers, competing mostly on price," said an HPE spokesman.
He claimed its SaaS platform lets telcos "move up the value chain" - yes, it made us feel a bit lightheaded too - by flogging higher-margin services that also let them "compete more effectively with cloud and over-the-top competitors".
Edge Orchestrator is HPE's latest effort in the 5G space, following the launch of its Core Stack and GreenLake cloud in March.
The 5G-as-a-service GreenLake product is a broader package, including essential hardware and software gubbins required to run a 5G back-end (everything save for the antennas, effectively). Meanwhile, HPE 5G Core Stack comprises the software required for network slicing and management.
Don't. Push. Me. Cause. I'm. Close. To. The. Edge
Edge computing is one of the beloved buzzwords of industry thinkfluencers and vendors alike. But persevere through the marketing blather, and you encounter a computational shift that's worthy of note.
In this case, "Edge" doesn't refer to ageing Irish boy band U2's guitarist, but rather the source of data — be that from an individual or other network-connected object. Edge computing, therefore, sees computational tasks performed close to the source. What's the big fuss? Latency is a big part of it. If you send all your data to a vast, air-cooled AWS data centre for processing, you're going to end up facing delays that can't be resolved by throwing more computational "oomph" at the problem.
After all, data is just light being passed through fibre-optic cables. The only real way to reduce that latency is to perform the computational legwork as close to the source as possible.
5G promises to be a big factor in the Edge Computing field, with 5G SA (Standalone — effectively, not built on existing 4G architecture) providing the most promise in particular, thanks to its dramatically lower latency. This will allow connections to be made where you otherwise wouldn't be able to connect a bit of RJ45 — including in transportation and agriculture.
And it's certain that telcos will embrace edge computing, as economic realities bite.
"Telcos are struggling with margins being squeezed and having to fork out billions on acquiring new 5G spectrum and rolling out costly networks. Ultimately telcos will need to recoup this investment to appease shareholders," analyst Paolo Pescatore told The Register.
"There is growing desire to move stuff closer to the edge in order to save costs and be more efficient. Users insatiable appetite for data is showing no signs of easing up.
"For sure high bandwidth applications like video and gaming will benefit. Anything really that requires large file sizes, need for speed and low latency. This concept has been accelerated in light of the current challenges and everyone working remotely. All processes and workflows need to be redesigned with a greater focus on digital transformation."
HPE itself needs to ignite the sales engines after years of shrinking revenues, and the pressure is building amid the current pandemic. Revenue for the first half of fiscal '20 ended 30 April was down to $12.958bn, down from $14.7bn in the corresponding period of the prior year. ®