Whose side you on, Nominet? Registry floods .co.uk owners with begging emails to renew unwanted .uk domains
Quick! You need to pay for that web address you never asked for so we can make more money
Dot-uk registry operator Nominet has again crossed the line from industry overseer to champion for the registrars that sell .uk domains, warning Brits they should pay to renew names they never ordered and didn't want.
Tens of thousands of owners of .co.uk domains this month have received an email from the organization, based in Oxford, warning them that their dot-uk domain is about to expire and they need to hand over hard cash "if you wish to continue using it."
There's a problem however: despite the email mentioning a domain netizens may recognize as their own in the subject line and in the first paragraph of the email, the actual renewal that Nominet wants everyone to shell out for – and for which it receives £3.90 a pop – isn't actually the .co.uk domain name they have registered but a .uk version Nominet controversially introduced in order to boost its registration figures and coffers.
Several Reg readers alerted us to the unsolicited emails, expressing alarm that the registry operator itself was misleading them into buying a name they didn't want. "Got a couple of these today and had a mild panic until I realised that they were for .uk domains that I've never registered, rather than .co.uk ones I have," one told us. "I'm not sure how they can justifiably claim that a domain that was never registered in the first place can be 'due for renewal'; seems like a fairly desperate attempt to flog a dead horse. I'm used to getting promotional emails from Fasthosts, but not from Nominet."
Another told us: "So far I've had 42 reminders from Nominet that 'my' .uk domains are coming up for renewal, and to act if I want to keep them. Obviously I don't, but are we likely to see a surge of fake malicious cloned/copycat websites in a few months?"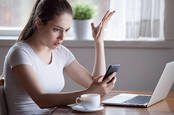 Two years ago, 123-Reg and NamesCo decided to register millions of .uk domains for customers without asking them. They just got the renewal reminders...
READ MORE
We have repeatedly reported on the .uk caper in which registrars have leaned on domain-name owners to purchase the same name twice, often using misleading language and sometimes saying it would charge people's credit cards for domains they never ordered and didn't want – and then claiming it was all a mistake when challenged.
The problem started when Nominet decided it would launch domains which just a .uk ending, snubbing its traditional third-level structure for the .uk namespace – namely, domains ending with .co.uk, .org.uk, .gov.uk, .me.uk, and so on.
Nominet cited the slowing registration rate of .*.uk domains as a reason for the second-level .uk expansion but its plans met resistance from those who feared massive cybersquatting and an undermining of the entire dot-uk brand. A business could spend 10 years building its online presence with a .co.uk domain, only to see someone undercut it by spending £10 on the same .uk name without the .co.
Delay tactics
So Nominet cut a deal where anyone with a .co.uk name would be able to register the .uk equivalent for no cost for several years to protect their brand. The registrars, meanwhile, were confident they would eventually get millions of domain holders to pay twice for the same thing: a .co.uk and a .uk name, doubling their sales overnight.
When the industry realized a huge percentage of .co.uk domain holders weren't interested in the .uk names, the registrars took matters into their own hands, and in many cases proactively registered .uk domains for punters, placing them in customer accounts without bothering to check if this was OK.
The claim was that the registrars, whose profits derive almost entirely from the number of domains registered through them, were doing it for their customers' own benefit. Yet when significant numbers of .co.uk domain holders again refused to express an interest in the .uk counterparts, when the free registration period was up, rather than simply letting the domains expire and drop, the registrars aggressively pushed the domains onto their customers anyway, warning that "their" domains were about to expire.
As we reported, and to stress again, some registrars simply told punters they would be charged for the extra second-level .uk domain names anyway, and later claimed the messages were a mistake.
As the dot-uk registry operator, Nominet is supposed to look after .uk domain holders and the .uk namespace as a whole, yet the organization has aligned itself more and more with the largest registrars, from which it makes the bulk of its revenue, and whose representatives sit on the Nominet board and are able to effectively veto any decision they disagree with, thanks to Nominet's voting rights system.
Regulatory failure
Rather than clamp down on the strong-arm tactics, Nominet hasn't done a thing about them, and even seemingly ignored the gaming of its registration systems. It also implemented a system for the release of valuable .uk domains that disproportionately benefited its largest members.
When we highlighted this snouts-in-the-trough situation, rather than review industry practices, Nominet's CEO accused The Register of peddling "fake news" while at the same time confirming our coverage was correct.
Nominet is all too aware of the controversy surrounding .uk domains and industry attempts to pressure .co.uk owners into registering .uk addresses. However, like the registrars, this month Nominet has pretended that a decision not to register a .uk equivalent is merely an oversight, and has used the same tactics of its own registrars to push registrations of .uk domains by injecting a sense of urgency into its emails.
"Your domain name [example.uk] is due for renewal – keep your .uk today," noted the Nominet email. The body of it read: "We are writing to inform you that your domain name [example.uk] has expired and that you need to renew the domain if you wish to continue using it."
It is just one more sign that despite its non-profit, membership-based organisation status, Nominet has virtually abandoned its role of guardian of the .uk namespace in favor of milking a captured market to bankroll attempts to break into other areas.
The cost of .uk domains has repeatedly gone up with no clear explanation as to why; the organisation decided to stop making its reports and even its board minutes public; and in the clearest sign it is, in your vulture's opinion, no longer fit for purpose, it killed off its charitable trust in order to pull the millions it previously donated to good causes back in house. ®